Republican Big-City Mayors Are an Endangered Species
Democrats have a lock on the dozen largest cities in the U.S.
By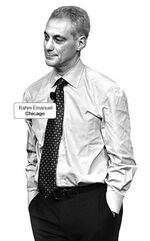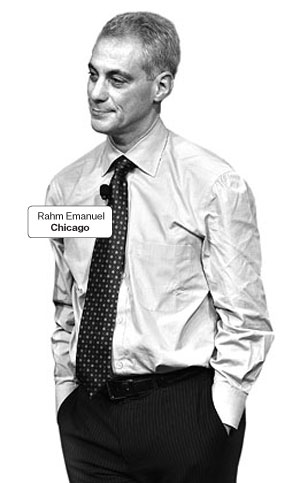 Twenty years ago, half of the 12 largest U.S. cities—those that had a population of more than 746,500—were led by Republican mayors. When Mayor-elect Bill de Blasio takes office in New York City on Jan. 1, all those mayors will be Democrats. While Republicans have focused on gaining governorships and congressional and state legislative seats, middle-class Americans have been leaving cities. Immigrants and younger voters who have moved in, for the most part, aren't voting Republican.
"If you fail to understand the needs of those demographics, we're going to have trouble with national elections forever," says Mayor Greg Ballard of Indianapolis, the most populous Republican-run city. "It baffles the Republican mayors. We just do not understand why we seem to have ceded ground in the big cities."
The New York election, especially, should alarm the party, says Scott Smith, the Republican mayor of Mesa, Ariz., and president of the U.S. Conference of Mayors. The waning interest in big cities is a problem, he says, because of the sheer number of voters who aren't supporting Republican candidates. That "has the potential of further bifurcating the party and the electorate," he says.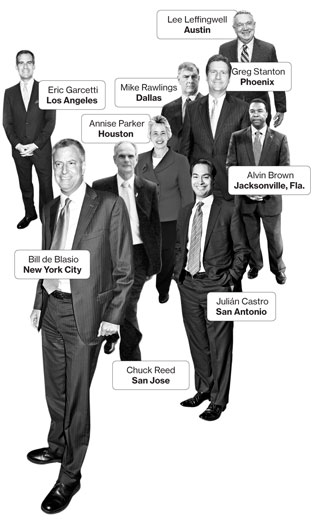 In New York, Democrats outnumber Republicans by more than 6 to 1, yet a Democrat hasn't run City Hall since David Dinkins left office in 1993. De Blasio won with the biggest margin by a nonincumbent in city history on a vow to close the growing gap between rich and poor. Besides New York, next year there will be Democratic mayors in Austin, Chicago, Dallas, Houston, Jacksonville, Fla., Los Angeles, Philadelphia, Phoenix, San Antonio, and San Jose.
Shifting demographics have helped drive them into office, says Bruce Katz, director for the Metropolitan Policy Program at the Brookings Institution. Racial and ethnic minorities, who overwhelmingly support Democrats and live mostly in the largest metro areas, accounted for 83 percent of U.S. population growth from 2000 to 2008, according to Brookings data.
That has brought changes in the issues that voters most care about. Two decades ago, when crime dominated the agenda in big cities, law-and-order Republican mayors from Rudolph Giuliani in New York to Richard Riordan in Los Angeles were popular. Today, says Katz, the emphasis is on economic matters and equal pay, jobs, and housing—issues that Democrats own. More Republicans won't become big-city mayors until their policies "align a little more closely with what's good for African Americans, Hispanics, and poor whites," says Ed Rendell, the former Democratic mayor of Philadelphia and governor of Pennsylvania.
Republicans have gained more governorships—30 today, up from 22 in 2006. And they've won mayoral elections in smaller cities nationwide, according to Kirsten Kukowski, a spokeswoman for the party's national committee in Washington.
The party's absence in population centers has created a divide that's pitting rural, urban, and suburban interests against each other in states such as Texas, where Austin, Dallas, Houston, and San Antonio are run by Democrats while the state as a whole is reliably Republican. All statewide offices are held by Republicans, including Governor Rick Perry, a 2012 presidential candidate, and the party controls the legislature.
As a result, when Democrats and mayors pushed for higher taxes to support education and expand Medicaid under President Obama's health-care overhaul, Republicans blocked the proposals, says Mark Jones, a political scientist at Rice University in Houston. The state's Democratic mayors are "left to their own devices," he says.
Kukowski says the party is turning its attention back to some of these neglected urban centers. "We are happy with the success we've had in statewide and local elections, but we know we need to … communicate our principles to a wider audience," she says. Building a presence in communities where Republicans haven't been as visible is a step in that direction, she says.
The attention can't come too soon, says Mesa Mayor Smith: "The core of our message, which has been a positive message, a growth message, is getting lost because you're missing out on real opportunities to govern following a Republican philosophy."
BOTTOM LINE -
The bottom line: After ceding mayorships around the country, Republicans are looking to regain office and influence in big U.S. cities.
Before it's here, it's on the Bloomberg Terminal.
LEARN MORE