Qantas Reels From a Fare War Down Under
by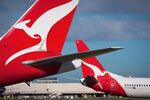 Australia's national airline is ailing. Qantas Airways jolted investors today by forecasting a loss of A$250 million to A$300 million ($226 million to $271 million) for the second half of 2013, more weak results next year, and plans to dismiss 1,000 employees. A vicious battle with Virgin Australia in the domestic market has boosted overall capacity and sent airfares falling.
Qantas believes it is the victim of an "uneven playing field" as Virgin's foreign investors fund that airline's expansion at a loss. Foreign carriers Air New Zealand, Etihad Airways, and Singapore Airlines own about 63 percent of Virgin Australia and could raise that stake to 70 percent under a A$350 million ($317 million) share sale Virgin proposed last month.
Virgin Australia has spent aggressively to add flights and new business-class services to try to steal share from Qantas. "Flying in Australia has sometimes been akin to having a bleeding competition with a blood bank," Sir Richard Branson, the chairman of Virgin Group, wrote this week in a blog post, rebuking Qantas's effort to to secure government assistance. Virgin Group owns 10 percent of Virgin Australia, which began flying in 2000 as Virgin Blue.
Australia could acquire as much as 10 percent of Qantas, the Australian Financial Review reported late last month, and the government could also revise a law that limits foreign ownership in the airline, helping to secure new capital. Qantas already has a broad partnership with Dubai-based Emirates. Qantas said in November that it has been discussing "a range of policy measures" with Australian officials, talks that are likely to assume new urgency given the financial results.
That potential aid provoked Branson's tart response Tuesday. "If Qantas was better managed and offered the public a decent service; it would not be in the financial mess it is currently claiming it is in," Branson wrote. "Government should be there to encourage competition, not to prop up the weak when the going gets tough."
The kangaroo-flagged carrier holds more than 65 percent of the Australian market, Bloomberg News reported in November. But Virgin's expansion plans have clearly hurt the dominant airline. "Since early 2012, there has also been an unprecedented distortion of the Australian domestic market, with Virgin Australia's strategy to seek majority ownership and massive financial backing from foreign government-owned airlines," Qantas said today in a statement. "This foreign government capital has been used to finance dramatic increases in domestic capacity, with profound implications for the future of Australia's aviation industry."
Qantas may also face a credit-rating cut from Moody's Investor Service due to its beleaguered cash-flow position. Qantas and Southwest Airlines are the only two carriers to have investment-grade status from more than one rating agency, according to Bloomberg data.
Before it's here, it's on the Bloomberg Terminal.
LEARN MORE