Private Eye Jules Kroll Makes Friends in the Rating Biz
Paul M. Barrett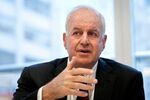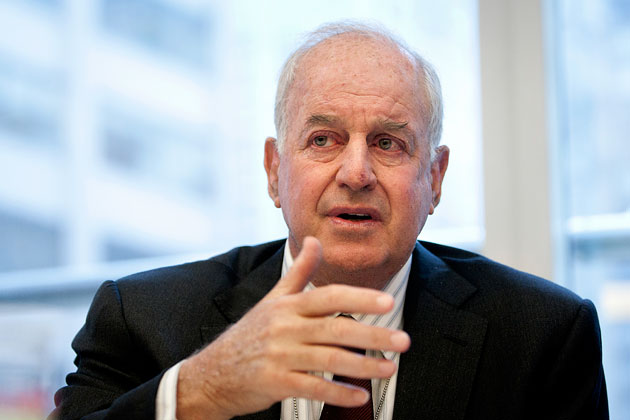 Jules Kroll, the pioneer corporate private eye, has turned his attention to the credit-rating business with all the finesse of a rusty crowbar. In May, Kroll, who started a bond-evaluation company in the wake of the 2008 financial crisis, took part in a roundtable sponsored by the Securities and Exchange Commission. He opined at the Washington session that the largest credit-rating companies—Standard & Poor's, Moody's Investors Service, and Fitch Ratings—were once again putting profit ahead of accuracy.
"They're selling themselves out just as they did before," the chief executive of Kroll Bond Rating Agency warned the SEC (with barely disguised self-interest). "If you want to see the next tsunami, wait for the outcome in high yield and watch what washes up on shore."
Talk about making friends in the new neighborhood. Let's stipulate right here that S&P, Moody's, and Fitch all profess to perform their work with the highest degree of integrity, selling out to no one. They see Kroll as a snotty upstart scrapping for assignments.
Curious how his congeniality campaign had progressed, I stopped by Kroll's midtown Manhattan offices the other day. In 1972, he invented the modern corporate investigation industry with Kroll Inc. He became a seriously rich man in 2004, when he sold that company for $1.9 billion. Now 72, he has a contemplative, owlish mien at odds with a competitiveness that shows no sign of diminishing.
He told me a story about hosting some rating analysts a decade ago when he was issuing debt in his Kroll Inc. days: "The underwriter told me all the canned questions they'd ask and the canned answers I should provide," he recalled. "Everyone just went through the motions." He came away with this impression of the rating business: "That's a pretty good racket."
Kroll saw his opening after the Wall Street meltdown. In a January 2011 report, the congressionally created Financial Crisis Inquiry Commission called S&P, Moody's, and Fitch "key enablers of the financial meltdown." In a scramble for fees paid by issuers, the Big Three raters favorably rubber-stamped real estate-backed securities that later blew up, the commission said. Lenders, borrowers, and regulators all contributed to the financial fiasco. But "this crisis could not have happened without the rating agencies," the commission added.
Despite this scolding, the Big Three agencies escaped forceful reform. Al Franken, the comedian-turned-Democratic senator from Minnesota, pushed for a federal board that would select rating companies to grade financial products on a rotating basis. The idea was to mitigate conflicts of interest that stem from issuers of debt shopping around for easy grades. Franken's plan died amid Wall Street opposition and congressional indifference. If they ever took their crisis commission seriously, lawmakers swiftly lost interest.
Kroll at first endorsed at least the basic concept of a rotating assignment system as a way to break up the Big Three oligopoly. But he didn't seem overly sad, when we spoke, that the Franken proposal has withered. Kroll's new agency will compete on quality, he said. Institutional investors value in-depth analysis more than they did before the crisis, he said, and they'll demand that issuers employ Kroll on their deals.
Still tiny, with only 100 employees, the Kroll agency is hiring more experienced analysts from larger rivals and is already "at cash-flow break-even," the founder said. "Now we're making money." Since he issued his first evaluations of securitizations in early 2012, that's an accomplishment in and of itself. More good news came in the form of this Oct. 25 dispatch from Asset-Backed Alert, an industry publication: "Kroll continues to rack up structured-product rating mandates with increasing frequency, reinforcing perceptions that the agency has won acceptance from issuers and investors alike."
Let's not get carried away. Kroll may be doing a better job than S&P, or he may be talking a big game. Credit ratings are a lot more exacting than gathering corporate dirt, so Kroll's lucrative skill at the latter doesn't guarantee success at the former. We'll see how good the Kroll raters are compared with the competition the next time there's a Wall Street shakeout, not an event to relish. In the meantime, Jules Kroll is hiring and winning new business, if not necessarily popularity contests.
Before it's here, it's on the Bloomberg Terminal.
LEARN MORE