Festive Dishes for Overworked Chefs
An elegant holiday menu by New Orleans restaurateur John Besh, easy enough to execute when you get home late
undefined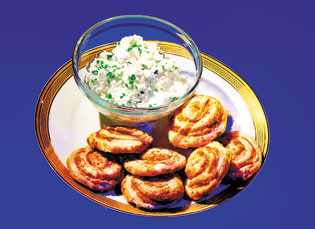 Paillettes With Goat Cheese Mousse
"One of my secrets is to keep good frozen puff pastry dough in the freezer. It's simple to turn it into tasty hors d'oeuvres—which leaves me more time to hang out with my guests."
Paillettes
1 sheet puff pastry dough, defrosted
1 egg
2 tbsp. whole milk
½ cup finely grated Parmesan
2-3 pinches of cayenne pepper
Heat oven to 375F. Lay pastry on a lightly floured surface. In a small bowl, lightly beat egg with milk. With a pastry brush, coat dough with egg mixture. Dust with Parmesan and cayenne. Roll dough like a jellyroll; slice into pinwheels about ¼ inch thick. Arrange on a baking pan; bake 15–20 minutes, until golden brown.
Goat Cheese Mousse
8 oz. fresh goat cheese
⅓ cup heavy cream
Handful of fresh chives, chopped
Handful of fresh herbs, chopped
Pinch of salt
Freshly ground black pepper
Soften cheese with cream in a small bowl; whisk in chives and herbs. Season with salt and pepper. Pair with paillettes. Serves 8-10.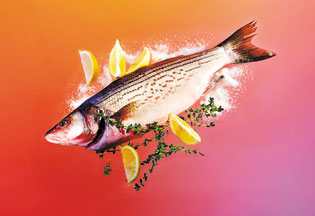 Salt-Baked Striped Bass
"I like to serve fish at the holidays, when every other meal is made up of heavy, rich foods. The salt doesn't actually come in contact with the meat: It steams the fish. Once ready, you chip away the salt, revealing the delicate flavors and colors of a beautifully cooked fish."
1 whole striped bass (2-3 lb.), scales and skin intact
1 bunch fresh thyme
2 egg whites
1 lb. kosher salt
¼ cup olive oil
½ lemon, juiced
1 garlic clove, thinly sliced
Heat oven to 350F. Line a baking sheet with foil. Stuff cavity of bass with thyme branches, then place fish in middle of baking sheet. In a large bowl, beat egg whites to medium peaks. Add salt until texture is dry and crumbly. Pat salt mixture onto fish to completely cover it. Bake until crust is golden, 30-40 minutes. Allow fish to cool slightly. Break salt crust away from fish (easier than it sounds), then carefully remove fish skin. In a small saucepan, heat oil, lemon juice, and garlic until warm. To serve, scoop a portion of bass onto each plate, then drizzle with flavored oil. Serves 6.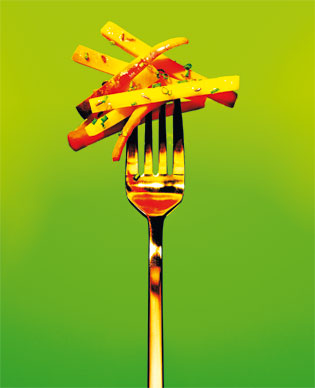 Carrot & Chive Salad
"This is a simple side salad that lets the vegetable's true flavors shine. The right mix of oil and vinegar enhances these qualities, and I cook the carrots just enough to soften them so they'll absorb the vinaigrette yet still retain color, flavor, and crispness."
4 carrots, peeled and cut into strips
½ tsp. caraway seeds
2 tbsp. rice wine vinegar
1 tsp. canola oilPinch of granulated sugar
1 tbsp. chopped fresh chives
Salt
Bring a small pot of salted water to a boil. Add carrots; blanch until softened but still crunchy, 30 seconds. Drain and rinse. Toast caraway seeds in a sauté pan over medium heat until fragrant, 1 minute. Whisk vinegar, oil, caraway, and sugar in a small bowl. Add to carrots; season with salt; toss. Marinate carrots at least 30 minutes. Sprinkle with chives before serving. Serves 6.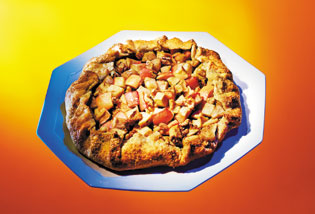 Apple & Pear Tart With Walnuts
"I love desserts that are simple and delectable and elevate perfect ingredients. This rustic tart does that. When we make it at home, we top it with powdered sugar—it looks like snow, something we don't have much of in Louisiana."
Tart Dough
1 stick cold unsalted butter, cut into pieces
2 ¼ cups all-purpose flour
⅓ cup granulated sugar
¼ cup whole milk
1 egg
1 tsp. grated lemon zest
1 tsp. salt
In a large bowl, cut butter into flour until flour has the consistency of coarse sand. Add sugar, milk, egg, zest, and salt; mix by hand until dough is crumbly. Shape dough into a ball; wrap in plastic wrap; refrigerate for an hour. You can also freeze this dough for later use.
Tart Filling
3-4 Gravenstein, Honeycrisp, or other tart apples, peeled, cored, and cubed (leave some skin to add texture)
2 Bosc pears, cored and cubed
½ cup walnuts, toasted and roughly chopped
½ cup dark brown sugar
½ tsp. ground cinnamon
1 tbsp. lemon juice1 stick unsalted butter, cut into pieces
Heat oven to 350F. On a well-floured surface, roll dough into a ¼-inch-thick oval; place on a baking pan. In a large bowl, toss apples and pears with walnuts, sugar, cinnamon, and lemon juice. Add butter and toss. Mound fruit mixture on top of dough. Fold edges of dough over fruit, covering most of it and pinching dough to secure it. Bake until crust is golden brown, 1 hour. Remove and cool. Serves 8-10.
All recipes are from Besh's new cookbook, Cooking From the Heart (Andrews McMeel), $40.
Before it's here, it's on the Bloomberg Terminal.
LEARN MORE