Five Obstacles for Ford's Awesome New Mustang
by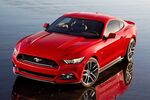 Ford executives fanned out across the globe today to pull the sheet off their 2015 Mustang. It's been almost 50 years since the seminal "pony" car made its debut at the New York World's Fair, and this will be the first Mustang sold outside of the U.S. Ford Motor is betting that its All-American cred, mixed with recent praise for engine efficiency and design, will generate returns far from Detroit.
"The Mustang has universal appeal," Mark Fields, Ford's chief operating officer, said on Bloomberg Television. "It ignites that sense of freedom and optimism, and it's very consistent. It transcends genders, it transcends demographics and nations."
The only real problem is the pressure. Nobody was paying too much attention when Dodge dusted off its Dart, but a Mustang is a different beast. After all, this is the car that topped 600,000 in sales in 1966, the machine Steve McQueen burned through the streets of San Francisco in Bullitt, widely considered the best car-chase movie ever. It's a ride that pulled middle-class Americans into sports cars en masse for the first time.
In short, Ford is trying to steer along a very fine line with its new Mustang. To succeed, it will have to handle five hazards in the road ahead:
1. It Looks Too Different
That's the classic challenge in overhauling an iconic vehicle. It needs to look new—enhanced and improved—without seeming too different. Most notably, the new model has an independent rear suspension, a Mustang first. The real pony purists will never stop tinkering with the storied '64 version, but that doesn't mean they won't have something to say about the latest model.
2. It Doesn't Look Different Enough
The flip-side of the first challenge: Bow too far to convention, and potential first-time buyers won't even kick the tires. The latest iteration has a fastback roof, long hood, and gaping grill—all elements that abundantly show what Ford executives call "the bloodlines" of the model.
3. It's Trying Too Hard
Worried about fuel-efficiency and gas prices? Ford's new Mustang will come with a twin-turbo, four-cylinder. Only care about reliving your muscle days with some 1970s-style street-racing? Ford will sell you one with a throaty V-8. Not sure what you want? There's the standard V-6 option. In the middle of a "screw-it" purchase, who wants to have to make so many decisions?
 4. You Live in Germany
There's probably a good reason Ford executives have never before given Mustang a crack at the Autobahn. The ubercars cranked out by BMW, Daimler's Mercedes, and Volkswagen's Audi have a fairly solid lock on it. What Ford design chief J. Mays calls "American-ness" only goes so far on the home turf of the "Ultimate Driving Machine." China, however, is another story—and arguably a more important one.
5. You're Just Not a Ford Gal/Guy
All the "car guys" in Detroit have been playing the nostalgia card, rolling out cars full of old-school American styling and 21st century efficiency. Recently, both the Dodge Charger and the Chevy Camaro have been outselling the Mustang. This year through November, U.S. drivers bought roughly 89,000 Chargers, 76,000 Camaros, and 71,000 Ford ponies. And those cars have another 12 months before the new Mustangs get in the race.
Before it's here, it's on the Bloomberg Terminal.
LEARN MORE