Elizabeth Warren's Presidential Fan Club Doesn't Include Elizabeth Warren
By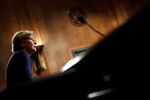 Which one is stronger: the campaign to draft Elizabeth Warren for 2016 or the movement to deny that Elizabeth Warren has presidential ambitions?
The latter gained momentum yesterday when the Massachusetts senator, speaking at a press conference with the newly elected mayor of Boston, denied she was considering pursuing the Democratic nomination in 2016. "I'm not running for president, and I plan to serve out my term," she said. "I am not running for president. I am working as hard as I can to be the best possible senator I can be."
In some of the more progressive corners of the Democratic Party, Warren has come to be seen as a dream candidate. She generates enthusiasm among liberal voters across the country and proved herself to be a formidable fundraiser in her 2012 senate race, when she amassed one of the largest congressional campaign hauls ever. She turned opposition to Wall Street into a winning political strategy, something that few others in her party—including Hillary Clinton, her potential rival for the nomination—have been able to do. Most members of Congress are hopelessly addicted to Wall Street cash as a source of campaign funds. In the face of voter rage over the crimes of the financial crisis and the increasingly precarious state of the middle class, Warren represents an alternative view.
Just a few weeks ago, the New Republic declared Warren to be Hillary Clinton's "nightmare" challenger (although Bloomberg Businessweek's Joshua Green argued that she probably wouldn't be able to wrest the nomination from Clinton's grip.)
There seems to be substance behind Warren's insistence that she isn't positioning herself for higher office: As the Boston Globe points out, she's done little early campaigning in primary states and hasn't focused much on foreign affairs. Her time has been spent on the Senate and ginning up attention for her pet causes, income inequality and bank regulation. There is at least one benefit to the ongoing draft-Warren movement, though, even if it is a pure media creation: She'll help keep the others in her party honest about Wall Street and the continuing need for financial reform.
Before it's here, it's on the Bloomberg Terminal.
LEARN MORE