A Sneak Attack on Big Data Center Makers
Modular hardware upstarts try to challenge HP and EMC
by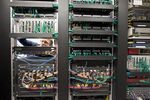 To add new medical software at Hoag Memorial Hospital Presbyterian, a network of 23 health-care facilities in California, Chief Technology Officer Joseph Wolfgram used to go shopping for a long list of pricey new servers, storage equipment, and networking gear. "For every new application, it was another investment," Wolfgram says. "That's what's wrong with the traditional data center." In November he bought one all-purpose box from startup Nutanix, which uses software to shift between processing, storage, networking, and other tasks that can require as many as a dozen devices. The Nutanix package costs about $144,000, and Wolfgram says it saved Hoag 40 percent over the health-care network's older hardware.
Nutanix is among a small group of companies, including SimpliVity and Scale Computing, that in the past two years have lured smaller businesses away from traditional data centers with promises of big savings. While most data center hardware serves discrete functions and often stands idle, the Nutanix gear works at full tilt. When it reaches capacity, Wolfgram can add another box in a half-hour. Nutanix says its clients include EBay and the U.S. Army.
Companies such as Facebook, which has its own highly customized open-source data centers, helped lead the development of software that could more efficiently manage a center's hardware. Now upstarts dedicated to selling data center equipment are nibbling at the server and storage sales of traditional hardware makers, including Hewlett-Packard and EMC.
Richard Fichera, an analyst at market researcher Forrester, says single-box sales account for less than 1 percent of the more than $40 billion data center server and storage hardware market. He estimates that will rise to as much as 20 percent in five years. "I've never seen anything that could add capacity so quickly," he says. Ravi Mhatre, a partner at Nutanix investor Lightspeed Venture Partners, says, "We think over time there will be a new set of companies that own the piece of real estate, providing computing platforms to mid- to large-sized businesses."
Established data center providers are closely watching the new companies. HP says it's developing a similar product to offer the kind of so-called hardware hyperconvergence the upstarts sell. "Customers are saying, 'We want this to be the primary way of buying IT technology,' " says Tom Joyce, a senior vice president at HP. "We are going to develop a set of offerings that are going to take convergence to the next level." Jeremy Burton, an executive vice president at EMC, says Nutanix, SimpliVity, and Scale will likely continue appealing primarily to smaller businesses and not affect his company's sales. "Look, one size does not fit all," he says. "We'll keep our eye on this market, but it's yet to be proven."
SimpliVity, which more than doubled its funding in November with a $58 million round of financing led by venture capital firms Kleiner Perkins Caufield & Byers and DFJ Growth, says it plans to triple its 135-employee staff within the year and hire 50 engineers in the next four months. "The limitation is how fast we can grow and maintain the same customer experience and quality," says Chief Executive Officer Doron Kempel. SimpliVity's sales, about $10 million this year, will quintuple in 2014, he estimates.
Nutanix CEO Dheeraj Pandey says his company, which has raised about $72 million in funding, generates more than $80 million in annual revenue and is increasing sales by 40 percent each quarter. Scale has raised $41 million; CEO Jeff Ready says the company has expanded its customer base from 32 to more than 700 this year and will more than double that in 2014. He declined to disclose revenue figures.
"Companies that are transformational like this will continue to grow until they become a pain in the neck for these big companies," says Arun Taneja, founder of consultancy the Taneja Group. "Big companies are going to wake up and want to acquire these." Nutanix's Pandey says larger data center makers he wouldn't name have already begun asking whether Nutanix is up for sale. He says he's not interested.
Before it's here, it's on the Bloomberg Terminal.
LEARN MORE