Taiwan and China: Best Friends Suddenly
Beijing's alienated most of Asia, but a thaw is developing with the island
By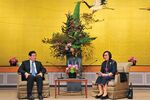 China's tense relationships with its neighbors have recently grown even worse. Ties with Japan, already frosty over an island dispute, soured further after Beijing announced a new air defense zone in the East China Sea that overlaps with Japan's. The expanded China zone also covers territory claimed by South Korea, but Korean air force planes are ignoring it. In the South China Sea, site of another island quarrel with the Philippines, Vietnam, Malaysia, and Indonesia, the Chinese were late and stingy in sending relief to the Philippines after Typhoon Haiyan: First they offered $100,000 in aid, then a still-puny $1.6 million. Out west, the Chinese foreign ministry cautioned India not to complicate the Sino-Indian relationship after President Pranab Mukherjee visited a Himalayan region that China considers part of Tibet.
But when it comes to China's ties with Taiwan, traditionally its most fraught relationship, Beijing's leaders couldn't be friendlier. Consider the schedule of Chen Deming. As head of the Association for Relations Across the Taiwan Straits, Chen is the official responsible for negotiating with the island, even though he'd never been there until last month. In late November he arrived for an eight-day visit to meet with the mayor of Taipei, the governor of the central bank, and the honorary chairman of the ruling Kuomintang, or Chinese Nationalist party.
Taiwanese officials marked the occasion by making it easier to do business with China. Taiwan President Ma Ying-jeou raised the daily quota of visitors from the mainland by 50 percent, to 3,000, while the two sides increased the number of direct flights across the Strait by almost 25 percent, to 828 per week.
Ma sees the further liberalization of business relations with China as important to his effort to fix Taiwan's economy. Growth this year will be disappointing and "economic transformation isn't fast enough," he told reporters on Nov. 22. To reduce the island's reliance on manufacturing, Ma says lawmakers must approve an agreement with China that would open as many as 80 service sectors, including banking, brokerages, and e-commerce, to mainland investment.
On the day of Chen's arrival, Ma's government said it would allow select Chinese companies to sell bonds denominated in yuan to Taiwanese investors. These so-called Formosa bonds will let the Chinese tap into the 120 billion yuan ($19.7 billion) already deposited in Taiwanese banks, says Raymond Yeung, an economist in Hong Kong with ANZ Bank. Yuan deposits are likely to almost double in the next year, he says, as Taiwanese companies continue to do business in China and more companies use the yuan to settle trade. Yeung adds that there's strong demand for the Chinese currency among many Taiwanese, who foresee further appreciation of the yuan.
Increased trade and investment with the mainland would be a welcome boost to Taiwan. The economy should grow just 2.2 percent this year, according to Yeung. Many of the island's electronics companies, once vital players in the global computer industry, are struggling to find their place in the world of smartphones and tablets. Acer was the world's second-largest PC maker when Apple introduced the iPad, but it's been sinking ever since. On Nov. 5, the company reported a record quarterly loss of $445 million. Another onetime local powerhouse is smartphone maker HTC, which was briefly the top brand in the U.S. in 2011 but has seen its market share dwindle to just 1.8 percent.
Closer ties with the mainland are not without risk. Since the Communists won the Chinese civil war in 1949 and the defeated Kuomintang retreated to Taiwan, Chinese leaders have viewed the island as part of the motherland: They are eager to tighten their grip on it. Many Taiwanese critics of Ma and the Kuomintang are unhappy about the improved ties. "Relations are warming up, but China is still threatening Taiwan militarily and creating hurdles for Taiwan's international participation," says Joseph Wu, executive director of policy planning and coordination for the opposition Democratic Progressive Party.
Wu and others say China wants to shore up Ma, whose Kuomintang doesn't advocate independence. With the economy weak and top members of the ruling party squabbling, Ma is deeply unpopular at home. China's leaders distrust the Democratic Progressive Party, which wants Taiwan to be a separate, independent republic.
Any warming between the two sides may quickly chill, warns J. Bruce Jacobs, a professor of Asian languages and studies at Monash University in Melbourne. Cross-strait ties "might look better temporarily, but they are not really getting better," he says. "What's happened is because the Chinese made it happen—and they can easily chop it off."
BOTTOM LINE -
The bottom line: Taiwan's complicated politics and weakened economy have prompted its president to welcome China's emissaries.
Before it's here, it's on the Bloomberg Terminal.
LEARN MORE