A Last-Minute Push to Rein in Wall Street
The CFTC head issues a flurry of directives as his term ends
By and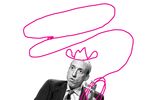 Gary Gensler is sending a message to Wall Street: I am not leaving Washington quietly. In his final weeks as chairman of the Commodity Futures Trading Commission, Gensler has had the agency issue more than a dozen advisory opinions that close loopholes or tighten rules that govern the largest financial firms and swaps traders. The opinions, which were not voted on by other commissioners, covered such issues as regulation of overseas derivatives trades and competition in the swaps market.
President Obama has nominated Timothy Massad, a Treasury Department official, to succeed Gensler, whose term has expired and who must leave by the end of the year. Gensler is "trying to do an awful lot in a very short amount of time," says Fred Hatfield, a former Democratic CFTC commissioner who now works at Patomak Global Partners, a regulatory consulting firm in Washington. "He's leaving as little to chance as could be possible."
The activity in recent weeks has set up a high-stakes confrontation between Gensler and Wall Street banks. Three industry trade groups sued the CFTC on Dec. 4 to block some of the last-minute moves. The banks had planned to negotiate on some rules after Gensler left, according to two people involved in the discussions. They and the others interviewed for this story spoke on condition of anonymity because their meetings were private. Gensler declined to comment.
A former Goldman Sachs partner, Gensler, 56, has emerged as one of Wall Street's main adversaries in Washington. He has fought a five-year battle with the industry over how to draw up a safer and more open marketplace for derivatives, the products that helped create the global financial crisis in 2008. Charged with devising derivatives rules mandated by the 2010 Dodd-Frank act, he often pushes an issue to the brink before compromising.
The move most distressing to the banks is an advisory the CFTC issued on Nov. 14 closing a loophole that allowed banks to avoid agency oversight by setting up swaps deals in the U.S. and then booking them at their affiliates in London. The advisory says that traders based in the U.S. who arrange, negotiate, or execute a deal even on behalf of an overseas affiliate must comply with Dodd-Frank. Swaps are private agreements that allow investors to speculate or hedge their risks on interest rates, currencies, and bond or loan defaults.
The banks are concerned that the rule could disrupt current deals and expose their overseas businesses to more regulation. Rob Nichols, president of the Financial Services Forum, which represents the chief executives of the major Wall Street firms, says that his members want to make sure regulators in the U.S. and Europe are "rowing in the same direction" so the global swaps market isn't disrupted, and that Gensler's guidance on foreign trading is "counterproductive." On Nov. 26, Gensler said the banks would have two months to comply with the rule.
Republican CFTC Commissioner Scott O'Malia criticized the foreign trading advisory as "regulatory insanity" in a Dec. 3 speech. A spokeswoman for EU financial services chief Michel Barnier said Barnier was surprised by the move, which seemed to go against an earlier deal Gensler had cut with the EU.
Another advisory that Gensler issued on Nov. 14 warned companies that operate swaps-trading platforms not to exclude hedge and pension funds or require them to play by different rules than banks. Gensler is also trying to push through rules that would increase transparency in the futures market. That is a response to actions taken last year by CME Group and IntercontinentalExchange, the two largest futures exchanges, to switch energy swaps to the futures market. (Bloomberg LP, parent of Bloomberg Businessweek, operates a trading platform known as a swap execution facility. A federal judge dismissed a lawsuit brought by the company to force the CFTC to restrict the shifting of swaps to futures.)
Gensler is creating problems for fellow regulators, demanding that they tighten the proposed Volcker Rule. While banning proprietary trading by banks, the Volcker Rule permits trades that act as hedges against risks a bank assumes when acting on behalf of clients. Gensler has said the final version of the rule, which must be approved by the CFTC and four other regulators, should include restrictions on banks' ability to hedge against swings in their entire portfolios. After telling the president in November there was a 50-50 chance the rule would get done this year, Gensler has feverishly made his case to his fellow regulators. Last week, signaling an end to the negotiations, the CFTC and the other agencies scheduled a Dec. 10 vote on the rule. Gensler dismissed claims that he has thrown a wrench in the talks and called the process "collaborative."
BOTTOM LINE -
The bottom line: Gensler is using his last days as CFTC chairman to close loopholes and toughen long-debated Wall Street rules.
Before it's here, it's on the Bloomberg Terminal.
LEARN MORE