UN Backs Central African Republic Mission as Capital Under Fire
Crispin Dembassa Kette and Gregory Viscusi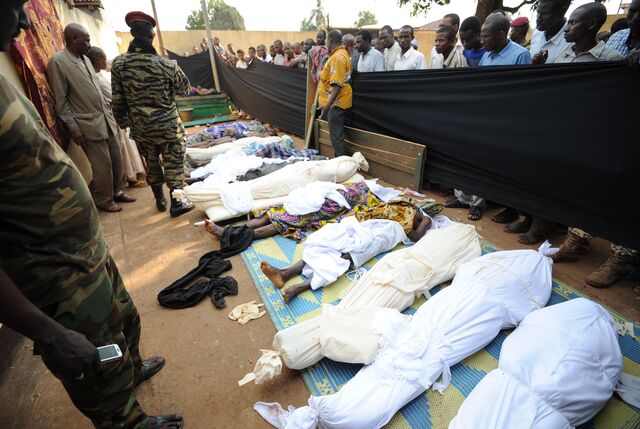 The United Nations Security Council voted to back a French and African military operation in the Central African Republic, hours after fighting in the capital left at least 80 dead and forced residents to flee.
French President Francois Hollande will meet with his defense and interior ministers tonight to discuss the operation, which could deploy 1,200 troops before the end of the year. Security Council members voted to adopt the resolution today, French Ambassador Gerard Araud told reporters today at the United Nations.
Automatic and heavy-weapons fire began at about 4 a.m. in the Boy-Rabe district before spreading to other areas near the city center, Marbue Hyppolite, deputy editor of Radio Ndeke Luka, a Bangui-based broadcaster, said by phone. At least 80 bodies were laid outside a mosque and nearby streets in Bangui, Agence France-Presse said today. The attack was carried out by forces loyal to ousted President Francois Bozize, according to Guy Simplice Kodegue, a spokesman for President Michel Djotodia, who came to power after a coup in March.
"Their aim is to seize power before the resolution of the UN Security Council," Kodegue said by phone. "Our response is organized. The situation is under control."
Djotodia has failed to impose law and order in the country since a rebellion by groups of fighters known as Seleka brought him to power eight months ago. An ensuing conflict has forced one in 10 people in the country to flee their homes, according to Medecins Sans Frontieres, the Geneva-based medical charity.
Central African Republic is the world's 11th biggest producer of rough diamonds by volume, according to the U.S. Geological Survey. The gems, along with timber exports, are the largest source of foreign-exchange for the $3.6 billion economy. The country also produces oil and has deposits of uranium, the USGS says on its website.
Before it's here, it's on the Bloomberg Terminal.
LEARN MORE