Brazil Says Current Pace of Rate Increases Remains Adequate
Matthew Malinowski and Raymond Colitt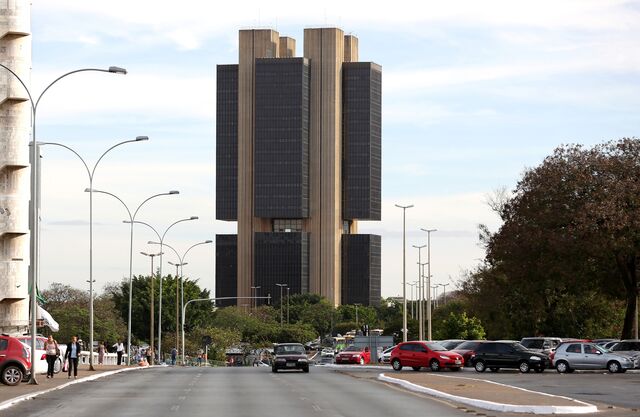 Brazil's central bank said its current pace of interest rate increases remains appropriate to rein in consumer prices, repeating language it used to justify previous half-percentage-point increases. Swap rates rose.
Policy makers, led by President Alexandre Tombini, voted unanimously on Nov. 27 to raise the benchmark Selic rate to 10 percent from 9.5 percent, marking the fifth straight 50 basis-point increase. Monetary policy must remain especially vigilant, officials said in the minutes to their Nov. 26-27 meeting released on the bank's website.
The central bank has raised borrowing costs by 275 basis points since April as the real dropped the most among major currencies in the past six months and deteriorating fiscal accounts sparked investor concern over a credit downgrade. Indonesia and Pakistan are the only other major economies tracked by Bloomberg that have boosted rates this year.
"This is going to dash any hopes that the central bank will call an immediate halt to interest rate hikes," Neil Shearing, chief emerging markets economist at Capital Economics Ltd, said by phone. "The central bank's concerns are about loose fiscal policy and high inflation."
Swap Rates
The day following the rate decision, traders pared bets for a further 50 basis-point increase. Today, the swap rates on the contract maturing in January 2015, the most traded in Sao Paulo, rose four basis points, or 0.04 percentage point, to 10.71 percent at 10:22 a.m. local time. The real gained 0.4 percent to 2.3800 against the U.S. dollar and has weakened 10.6 percent in the past six months.
Inflation remains resistant and the "Copom considers that continuity of the rhythm of monetary policy adjustments currently under way is appropriate," the central bank said in the minutes. The international economic scenario and Brazil's fiscal situation will influence policy makers in their Jan. 14-15 rate decision, the bank said.
Brazil's nominal budget deficit in October was the widest on record for the month, and its primary budget surplus, which excludes interest payments, fell to 1.4 percent of gross domestic product in the year through October, short of the 2.3 percent target for 2013.
Latin America's largest economy contracted 0.5 percent in the three months through September from the previous quarter, the biggest drop in four years, the national statistics agency said on Dec. 3. While industrial production in October grew faster than economists' expectations, output had missed estimates the previous three months.
Price increases in the 12 months through November probably slowed to 5.81 percent, according to the median estimate in a Bloomberg survey of 25 economists. While that's above the 4.5 percent midpoint of the central bank's target range, it's down from a 2013 high of 6.70 percent in June.
The national statistics agency is scheduled publish the official inflation figure for November tomorrow.
Before it's here, it's on the Bloomberg Terminal.
LEARN MORE