Bratton Selected by De Blasio to Head NYC Police Force
Henry Goldman and Esmé E. Deprez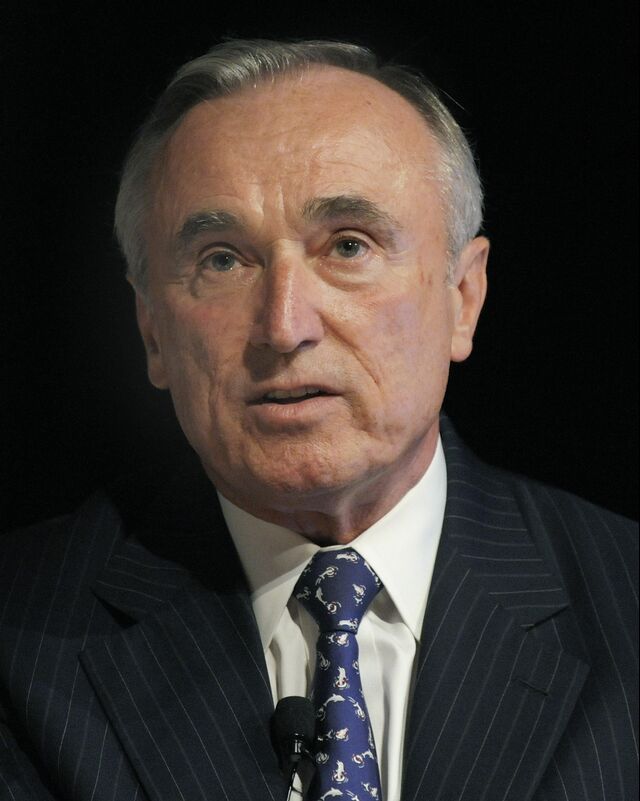 New York Mayor-elect Bill de Blasio chose William Bratton to be the city's next police commissioner, returning him to the job he held for two years until he resigned in 1996 after a falling-out with former Mayor Rudolph Giuliani.
Bratton, 66, served as Boston police commissioner before arriving in New York in 1994 to lead the NYPD, and was chief of the Los Angeles police department from 2002 to 2009. Since then, he's been a security consultant and was chairman of Kroll, a corporate-investigations firm, for two years until 2012. De Blasio made the announcement today at a news briefing in Brooklyn.
The new commissioner will take over a 34,000-officer department. He must continue to reduce crime while refining the stop-and-frisk street tactics that de Blasio campaigned against, saying they damaged police-community relations. He'll also be responsible for a 1,000-officer division devoted to terrorism investigations and prevention that has been criticized for its surveillance of Muslims.
"This is a strong appointment of a proven police leader with a national reputation for reducing crime and earning community respect," said Jeremy Travis, president of John Jay College of Criminal Justice in Manhattan and a member of de Blasio's transition committee. "Bill Bratton wrestled with the same problems as ours in Los Angeles. He dealt with a court-ordered federal monitor. He created a counterterrorism task force. His appointment will resonate very positively with the rank and file."
Time Cover
Almost 20 years to the day after he accepted Giuliani's appointment as commissioner, Bratton promised to "get it right" by delivering safe streets, subways and traffic, and collaborating with federal and state agencies to prevent acts of terrorism.
"It must be done fairly, respectfully, compassionately; it must be done consistently," Bratton said.
Bratton came to the announcement at a community center in Red Hook with a children's book titled "Your Police," which he has kept with him since he first borrowed it at age 9 from a Boston library branch. He said it encompasses his long-held views on law enforcement.
'Your Police'
"I checked out this book so often that I don't think anybody else ever saw it," Bratton said. "I loved the title, 'Your Police.' In this city, I want every New Yorker to talk about their police, my police, with respect and with confidence that they're going to be respected in turn."
Bratton said he began as commissioner in Los Angeles when police had been "literally at war with its African-American community for 50 years." The situation was reversed by training officers to engage residents with more respect, leading to more trust.
"He helped transform the LAPD's relationship with the community it serves while bringing crime down to historic lows," said former Los Angeles Mayor Antonio Villaraigosa in a news release distributed by de Blasio's team.
De Blasio cited the accomplishment as a key reason for the appointment after a mayoral campaign in which he said police were harming community relations and hindering crime-fighting by overusing stop-and-frisk tactics on hundreds of thousands of young black and Latino residents. A lawsuit challenging the policy led to a federal court's order this year appointing a monitor to oversee the department.
Chemotherapy Analogy
De Blasio said Bratton shaped his thinking by comparing stop-and-frisk to chemotherapy cancer treatment.
"Used in the right dose it can save lives," the mayor-elect said. "Used in the wrong dose, too heavy a dose, it can create its down dangers and problems, it can backfire."
Bratton's 27-month stint heading the NYPD began a 20-year period in which crime dropped 74 percent, an achievement Travis attributed in part to CompStat, a system Bratton pushed that uses a database to map, categorize and time-stamp crimes to manage dangerous neighborhoods.
Bratton's relationship with Giuliani soured after the commissioner appeared on the Jan. 15, 1996, cover of Time magazine with the caption, "Finally, we're winning the war against crime. Here's why." Giuliani, a former prosecutor, wasn't mentioned on the cover.
Broken Windows
He will take over the department at a time of contentious negotiations over a labor contract that expired years ago.
Patrolmen's Benevolent Association President Patrick Lynch said de Blasio's appointment of Bratton was a "solid choice," describing the new commissioner as a leader with an "international reputation as a problem solver and innovator."
Bratton was an early advocate of community policing, involving street patrols and engagement with civic and religious leaders.
He also was a proponent of the "broken windows" concept of law enforcement, a theory introduced in 1982 by sociologists James Q. Wilson and George Kelling that linked neighborhoods' social cohesiveness -- clean streets, no graffiti and lack of petty street crime -- to reducing assaults, robberies and other felonies.
Bratton will be the city's first new commissioner in 12 years, succeeding Raymond Kelly, 72, chosen by Mayor Michael Bloomberg while the ruins of the World Trade Center still smoldered from the Sept. 11 attacks. Bloomberg, 71, is founder and majority owner of Bloomberg News parent Bloomberg LP.
Since Kelly became commissioner, crime declined by 31 percent, according to NYPD statistics. Kelly's stint also represented a return to the post after he had served as former Mayor David Dinkins' commissioner in 1993.
Before it's here, it's on the Bloomberg Terminal.
LEARN MORE