business
Adam Lisagor, Silicon Valley Startups' Favorite Video Director
Adam Lisagor is the face of the growing app-demo video business
By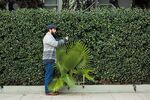 Before its video went live on YouTube, almost nobody had heard of Coin. In the one-minute, 45-second ad, a schlubby, bearded guy demonstrates how to use the credit card-size device to electronically store up to eight cards that can be used to pay at a checkout counter and a restaurant. In the video, the address for the device's website appears on-screen after the narrator delivers this tag line: "All you need is one. One Coin for all your cards." Posted on Nov. 14, the ad has close to 7 million views. Coin reached its first-month sales goal of $50,000 less than an hour after it went up for preorders online. Chief Executive Officer Kanishk Parashar says that's due in large part to the ad, which helped attract greater interest from consumers and contract manufacturers. "We became the No. 1 video on YouTube," he says. "That just speaks for itself."
Adam Lisagor made the ad. (He's also the guy at the checkout counter in the Coin video.) A former journeyman film editor and the founder of Sandwich Video, he has emerged as the director of choice among Silicon Valley startups looking to gain visibility. Lisagor has refashioned product demos, an old idea in the world of advertising, into an effective marketing vehicle. In 2010, when he started making the videos, there were only a few filmmakers specializing in the app-demo business. Today there are more than 130. "Everybody thought if you just put your app on the App Store, you're going to strike it rich," Lisagor says. "That turned out not to be the case."
Lisagor is emblematic of Silicon Valley's easy-money moment. He makes product films for $50,000 to $75,000, or a small equity stake, unusual for a marketer. "Most of the companies I'm working with don't have the kind of budget for a big ad agency," he says. His clients include mobile-payment company Square, apartment-sharing network Airbnb, and newsreader app maker Flipboard. "If you want to be seen as a hot new startup, that's the guy you want to do your video," says Yann Lhomme, co-founder of rival company ThinkMojo. Lisagor, 35, says he's made 56 startup videos so far this year, up from 16 in 2010. He's a soft-spoken counterculture aficionado, though scarcely a starving artist: He drives an Audi and bought a house in Los Angeles's Eagle Rock neighborhood, an emerging hipster hub.
A graduate of New York University's film school, Lisagor shot his first ad video in 2009 to promote Birdhouse, an iPhone app he designed with a friend that let users store draft tweets for review and editing. The app never caught on, but the video was popular enough to attract interest in his ad work from other software developers. Some of Lisagor's work is comic, as with an ad for the app Breaking News that features an older news anchor type discussing how useful it can be in the bathroom. The ads can also be earnest, even a little hokey. His pitch for the car-sharing service Lyft claims it fosters community among strangers.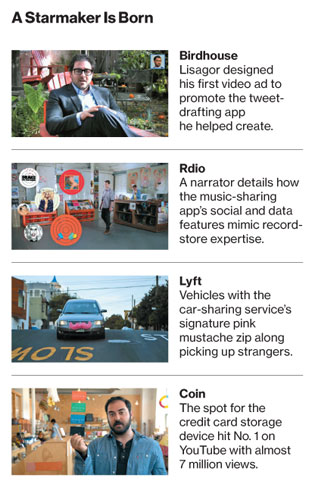 The ad maker occasionally stars in his videos—something he started doing on the advice of Twitter co-founder Jack Dorsey. With his sleepy demeanor, disheveled hair, droopy eyes, and paunch, Lisagor has no trouble coming across as a Valley geek and a true believer. He says he's not interested in creative ad awards—"startup culture celebrates itself enough"—and that while directing a movie someday could be fun, his real dream is to shoot an ad for Apple. Several startup clients say the director's fluency with tech lingo was a deciding factor when they hired him. "He's just a guy next door who is explaining some cool new thing to you," says Flipboard co-founder Marci McCue.
Venture capitalist Paul Kedrosky says he worries that an expanding startup video business contributes to the investor hype that has inflated tech company valuations in recent years. "It becomes this bizarro quasi-Ponzi scheme where you have startups selling to each other and they all collapse together as soon as the capital dries up," says Kedrosky, a senior fellow at technology nonprofit the Ewing Marion Kauffman Foundation, adding that he avoids investing in a company he learns about from a video. (He wasn't referring specifically to Lisagor or Sandwich Video.)
There's evidence the Valley economy is overheating, from photo-sharing app Snapchat rejecting a $3 billion buyout offer from Facebook to mobile payment company Clinkle securing a $25 million funding round with a sales pitch and no product. Even some startup filmmakers take a jaundiced view of the current exuberance. Ninety percent of startups with "these super grand visions of being the next Instagram" fail, says ThinkMojo's Lhomme.
Lisagor says he chooses his jobs carefully to avoid hurting his reputation, turning down most requests for videos. "The reason to go with me is it comes from an interest in the product, not just the business of making a video," he says. He's a big fan of Flutter, which makes software that lets users control apps with hand gestures. He took a stake in the company in exchange for a video, a deal that paid off when Google bought Flutter in October. At least nine of the companies whose videos Lisagor has made have been acquired. He's also started to do TV commercials, which can pay up to five times as much as a Web video. His first will be for Groupon.
In Venice Beach, Calif., Lisagor has converted a bungalow into a set for his latest video. It's for Beep, a company founded by two former Google employees with a device that wirelessly links mobile devices to speaker systems. On the set, a young woman dances through her house to pop music, occasionally tapping her phone to shift the song from one room's speakers to the next. Beep co-founder Shawn Lewis excitedly snaps pictures of the set and predicts the video will yield a lot of preorders, though he won't say when his product will be available. Lisagor says he hasn't used Beep and doesn't know how well it works. "This is one of those where it will work out or it won't," he says. "You kind of have to take a leap of faith."
Before it's here, it's on the Bloomberg Terminal.
LEARN MORE