Want to Get Scholarships? Get Your Applications in Early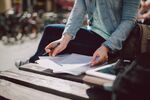 This tip on improving your SAT score was provided by Veritas Prep.
If you're a senior in high school right now (end of November), you're probably knee-deep in college applications. Some of you may have even turned in your early action/early decision applications to a few select schools you really want to get into. For regular deadlines, you likely have a date marked in January when you need to get those applications turned in for consideration. If you are looking for merit scholarships from the school, however, you better double-check their admission deadlines.
Here's a little nuance that not all students know about: Many times, a school's application deadline for scholarship consideration is much earlier than its regular admission deadline. For example, University of Southern California has a regular admission deadline this year of Jan. 15. If you want to be considered for scholarships, however, you have to get your application in by Dec. 1, a full month and a half earlier. A private university with a big endowment, like USC, gives away tons of merit scholarships every year to attract the best students. You don't want to miss an opportunity to get some of that scholarship cash because you turned in your application by the regular deadline instead of the scholarship deadline.
Double-check all your schools' scholarship deadlines and any additional requirements you may have to fulfill to be considered for merit-based aid. Need-based aid, however, typically follows different rules, and there isn't a separate deadline to apply for need-based financial aid. In both cases you will need to complete a FAFSA (Free Application for Federal Student Aid) by a deadline to complete your application for a financial aid package.
In addition to deadlines for school-specific scholarships, many large, prestigious scholarships, such as the Coca-Cola Scholars Program, Gates Millennium Scholars, and Davidson Fellows Scholarships, have very early deadlines as well. Even if you did not apply early action/decision to any schools this year, if you have a competitive GPA and test scores, you should double-check to see if you can qualify for some of these scholarships. Spending just 20 hours working on scholarship applications and essays could mean an extra $5,000 to $50,000 for college—that's like earning $250 to $2,500 an hour. So turn off the Facebook and the iPhone games and spend a little time on those scholarship applications.
Plan on taking the SAT soon? Sign-up for a trial of Veritas Prep SAT 2400 on Demand.
Before it's here, it's on the Bloomberg Terminal.
LEARN MORE