Small Businesses Lead November Job Gains: ADP
by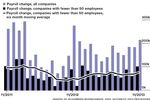 Small companies with less than 50 employees added 102,000 jobs in November, the largest gain since January, and accounted for nearly half of private sector hiring, according to the ADP National Employment Report released on Wednesday.
The ADP report showed a total of 215,000 jobs added in November. The figure beat economists' forecasts and was the strongest growth in a year. Revisions to the payroll company's numbers also showed better pictures of the last two months than was initially reported.
There's a fair amount of noise in the payroll company's monthly report, but on average, small employers added about 76,000 jobs a month in 2013 through November, compared to 63,000 per month in 2012.
The government's jobs report, which includes both public and private sector hiring, is scheduled to be released by the U.S. Bureau of Labor Statistics on Dec. 6.
Before it's here, it's on the Bloomberg Terminal.
LEARN MORE