Is ADP Still Undercounting Private-Sector Jobs?
by
This week's ADP number on private-sector job growth, at 215,000 for last month, was the highest since a year ago, when ADP's tally had 275,000 jobs added to the U.S. economy in November 2012. The span between hasn't been great for the company's prognosticators—the initial estimate for monthly private-sector payroll growth has been off by an average of 43,000 over the past 12 months, according to data from RBC Capital Markets—but it's actually better than ADP did in 2012, when the average miss was around 60,000.
Last year ADP partnered up with Moody's Analytics to "enhance" its methodology. Under the new partnership, the ADP report draws on more companies (406,000 instead of 344,000) and collects payroll data every week, which had not been the case before.
While its accuracy is improving, ADP still isn't that great at predicating the government's number released by the U.S. Bureau of Labor Statistics. This year, ADP has been missing mostly on the low side, undercounting by an average of 30,300 jobs per month so far, according to a note that Mitsubishi UJF Securities rates strategist John Herrmann sent to clients this morning. Even with revisions, ADP is missing a total of 196,000 private-sector jobs created so far this year.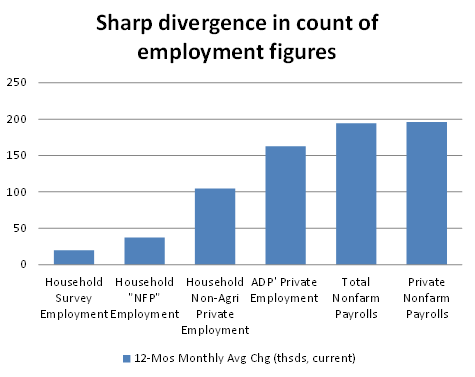 So if ADP is still vastly undercounting, does that mean Friday's BLS number will be above 200,000? Seems the odds are improving that it will. Thirty minutes after the ADP number hit this morning, Herrmann wrote that Mitsubishi has boosted its estimate from 193,000 to 212,000. "While this mathematically isn't enough to alter the consensus view for Friday's number, it does change expectations," says Jacob Oubina of RBC Capital Markets. Particularly in what analysts call "the whisper number," one that is outside the range of most projections but maybe not that crazy.
The average estimate for Friday's number is 180,000 jobs, according to economists surveyed by Bloomberg. That same survey came in at 120,000 last month, when nonfarm payrolls jumped 204,000.
Before it's here, it's on the Bloomberg Terminal.
LEARN MORE