Ireland Recoups Bank of Ireland Aid After Preferred Sale
Joe Brennan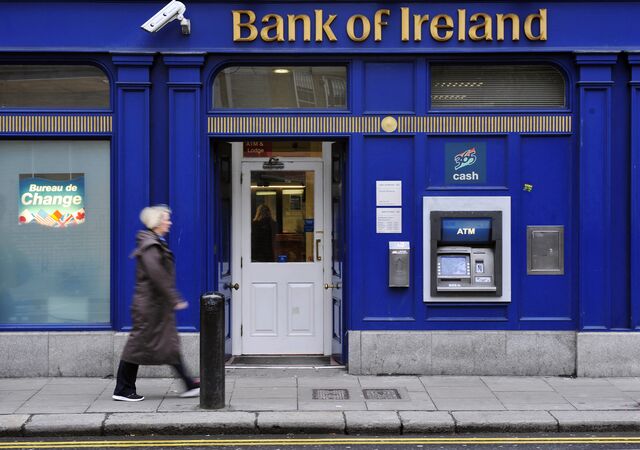 Bank of Ireland Plc will redeem some of the government's preferred shares in the company, helping the state to more than recoup the 4.8 billion-euro ($6.5 billion) cost of rescuing of the country's largest lender.
To fund the move, the lender carried out a 580 million-euro stock sale today, priced at 26 cents a share, it said in a statement. The government also sold its remaining 1.3 billion euros of preferred shares in the bank to investors at a 4.75 percent premium, the Finance Ministry said.
Chief Executive Officer Richie Boucher is seeking to wean the Dublin-based bank off government aid and fend off pressure from the Irish central bank to increase provisions for souring loans. The share sale buttresses the government's plan to exit its international bailout program on Dec. 15, three years after the soaring bill for saving the country's banks cost the state its economic sovereignty.
"This transaction is another important step for both the state and the Bank of Ireland, and furthers our policy objective of separating the sovereign from the banks," Finance Minister Michael Noonan said in an e-mailed statement.
Bank of Ireland shares closed at 26.2 cents in Dublin, down 2.6 percent on the day.
'Successful Refinancing'
The transaction brings the total amount of cash the government has recouped from Bank of Ireland to 5.9 billion euros since providing a 4.8 billion-euro rescue. The government's 15 percent shareholding in the lender will decline to about 14 percent following today's stock sale. That stake is valued at 1.2 billion euros, based on market prices.
Bank of Ireland has sidestepped a scheduled 25 percent increase in the amount owned on the preference shares to 2.29 billion euros at the end of March as part of the transaction.
The refinancing "represents a significant step for Bank of Ireland back to normalized operating conditions and away from state assistance, giving the bank and its shareholders more control over the group's strategy and decision making," said Ciaran Callaghan, a fixed-income analyst at Merrion Capital in Dublin.
Goldman Sachs
The Finance Ministry was advised on this transaction by Goldman Sachs Group Inc. Credit Suisse Group AG, Deutsche Bank AG, UBS AG and Dublin-based Davy managed the stock offering and preference share sale, with Bank of America Corp. also helping with the latter transaction.
Noonan has said Bank of Ireland as well as its biggest competitor, Allied Irish Banks Plc, are on track to return to profit next year, having each posted underlying losses since 2009. Bank of Ireland hasn't published its own profit forecast.
Noonan's estimate may be undermined by a central bank assessment that Bank of Ireland may need to increase provisions for bad loans by as much as 1.1 billion euros. Bank of Ireland is disputing the forecasts, saying it "remains confident in its own methodologies, calculations and impairment provisions."
"Full implementation of the central bank findings might be too conservative, but until clarity emerges in Bank of Ireland's full year results, it would be prudent to factor in some adjustments," said Eamonn Hughes, who currently expects a 500 million-euro provisions increase.
Before it's here, it's on the Bloomberg Terminal.
LEARN MORE