Eurostar Sees a Future Beyond Channel Crossings
By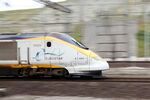 As the British government aims to dispose of its stake in Eurostar, the company is setting its sights on a major expansion that could involve new domestic service in coming years.
The U.K. holds a 40 percent stake in the private train company, which 19 years ago began operating high-speed rail service linking London, Paris, and Brussels as part of a government-backed venture among the three nations. The British Treasury said today that it aims to raise £20 billion ($32.8 billion) by 2020 through the sale of government operations, including Eurostar. In October, meanwhile, the government raised £1.7 billion with a public offering for the Royal Mail.
Eurostar has reported profits and increasing ridership since 2010, when it became a private corporation. Operating profit doubled last year, to £52.3 million, on nearly 10 million passengers, and the company also reported a £25 million profit in 2011. The French national rail service SNCF owns 55 percent of Eurostar, with Belgian rail company SNCB controlling the rest. Eurostar had no comment on the potential divestiture, spokesman Leigh Calder said today.
Eurostar has embarked on a £700 million investment in new trains and service, with a brand-new fleet expected by 2015 and the opening of a high-speed link from London to Amsterdam planned for late 2016. The company also intends to bid early next year with a partner, France's Keolis, to operate an East Coast U.K. franchise from London to Edinburgh. The winner of that auctioned route will be announced in October, with the new service expected to commence in February 2015.
The company also ran a successful trial this summer from London to Provence and will make that service permanent by 2015, Calder said, as well as new routes to Lyon and Marseille. Eurostar is also exploring ski destinations and could begin a route to Barcelona in the future. New trains that Eurostar is acquiring from Siemens are capable of operating on various tracks in different European countries, Calder noted, which means that Eurostar could one day become a continentwide rail operator. Others, notably Deutsche Bahn, are also planning longer routes, with a link expected in 2016 from Germany to London.
That competitive landscape is part of what's driving Eurostar's growth now. "We always have an eye to the future, and there are interesting plans for high-speed rail in Europe," Calder said.
Before it's here, it's on the Bloomberg Terminal.
LEARN MORE