Cameron Voices Osborne Support Before Autumn Statement
Robert Hutton and Svenja O'Donnell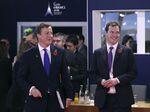 Prime Minister David Cameron voiced his support for Chancellor of the Exchequer George Osborne, praising their relationship before tomorrow's Autumn Statement that's set to highlight Britain's strengthening recovery.
"I have a very, very strong relationship with the chancellor," Cameron told reporters in Shanghai yesterday. "We work together hand-in-glove."
This week, Osborne will for the first time since 2010 present stronger economic forecasts than those made earlier in the year. Cameron's support will provide momentum for the chancellor, who since his 2010 appointment has seen Britain's credit rating downgraded and his policies criticized by the opposition Labour Party as well as the International Monetary Fund for stifling economic growth.
Based on independent forecasts, expansion this year will be more than double the 0.6 percent the Office for Budget Responsibility forecast in March, with the deficit in the fiscal year through March as much as 10 percent lower than estimated. That contrasts with the situation at the time of Osborne's March budget, when the chancellor faced a risk of a triple-dip recession.
Cameron contrasted his relationship with Osborne with that over 10 years between Labour Prime Minister Tony Blair and his chancellor, Gordon Brown, who succeeded Blair as prime minister in 2007 before losing the election to Cameron in 2010.
'Impossible' Relationship
"I often ponder how I just simply don't understand how government could have functioned when the relationship between Blair and Brown got as bad as it did," Cameron said. "It's only when you're prime minister that you see how impossible it must have been."
Osborne has so far said that in tomorrow's statement he will announce details of reductions to levies on power companies, reducing consumers' bills. The speech will also include details of tax breaks for married couples, a move set to please Tory rank-and-file lawmakers who have criticized the government for not doing enough for traditional families.
Before it's here, it's on the Bloomberg Terminal.
LEARN MORE