Bonds Risk First Annual Decline in New Millennium: Poland Credit
Maciej Onoszko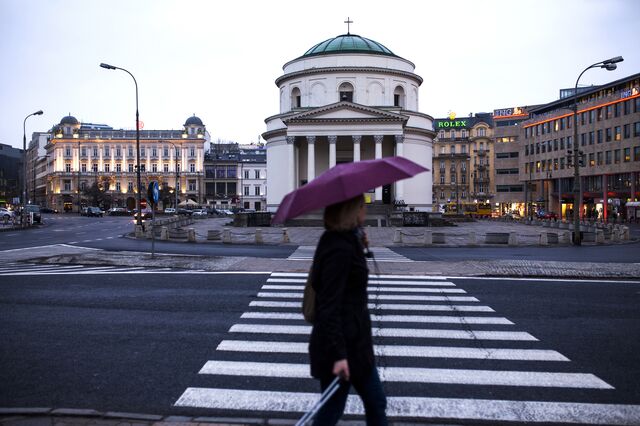 Polish government bonds are headed for their worst performance since at least 1999, at risk of their first annual loss, on concern over the timing of the U.S. Federal Reserve's planned stimulus reduction.
Zloty bonds maturing in a year or longer have returned 0.5 percent this year, on track for the least since Bloomberg and the European Federation of Financial Analysts Societies started compiling the data in 2000. The notes have made 216 percent during a run of 13 years of gains, which compares with 200 percent for Hungary and 123 percent for the Czech Republic.
Polish securities have suffered alongside other emerging-market debt since May, when Fed Chairman Ben S. Bernanke said the U.S. central bank may start tapering its $85 billion of monthly asset purchases. Foreign holdings of Poland's local-currency bonds declined in October by the most in five years, according to the Finance Ministry.
It's better to "wait for the impact of tapering on markets before adding risk in Poland," Peter Schottmueller, who helps manage the equivalent of $17 billion in emerging-market and international debt at Deka Investment GmbH in Frankfurt, said by e-mail yesterday. "This is not Poland specific" as local currency emerging-market bonds have "suffered from the tapering discussions" this year, he said.
Polish bonds may incur an annual loss if U.S. non-farm payrolls data, set to be published on Dec. 6, increase speculation that the Fed will start curbing stimulus at the Dec. 17-18 meeting, Schottmueller said.
Taper Timing
While a Bloomberg survey of economists on Nov. 9 showed expectations that the Fed will pare purchases of Treasury and mortgage-backed securities to $70 billion a month at its March 18-19 meeting, Schottmueller expects tapering to start in January after policy makers "announce" such a move this month.
Foreign holdings of Poland's zloty-denominated bonds fell
6.9 billion zloty ($2.2 billion) in October to 193.6 billion zloty, or 34.2 percent of the total, according to the latest Finance Ministry data. This is the biggest monthly decline since October 2008, a month after the collapse of Lehman Brothers Holdings Inc. that sparked a global economic crisis.
The drop in foreign holdings was due in part to a buyback of 2.3 billion zloty in maturing debt, Piotr Marczak, the head of the public debt department at the Finance Ministry, said in a statement on Nov. 29.
The withdrawal helped widen the premium investors demand to hold 10-year government bonds over similar-maturity German notes to 281 basis points today from this year's average of 241 basis points, according to data compiled by Bloomberg. "This trend is likely to continue," Katarzyna Rzentarzewska and Pawel Kielek, analysts at Erste Group Bank AG, wrote in a note yesterday.
'Bull Market'
Polish bonds generated positive returns through more than a decade mainly because of "structural disinflation" and a "significant" improvement in the perception of the country's risk, according to Radoslaw Bodys, the chief economist at PKO Bank Polski SA, the nation's largest lender.
"Globally, we enjoyed a multi-year bull market for bonds," Bodys said by phone yesterday.
The European Union's largest eastern economy is accelerating after growth slowed to a four-year low in the first quarter. Lower-than-planned tax inflows forced the government to raise its budget-deficit target by 45 percent in August. Prime Minister Donald Tusk also sent a bill to parliament that would seize 51.5 percent of assets held by privately managed pension funds in a bid to reduce public debt.
Inflation Outlook
Inflation has stayed below the central bank's target for an 11th month in October. Policy makers reduced interest rates by a total of 225 basis points between November 2012 and June to a record-low 2.5 percent. The central bank, which ends a two-day meeting today, last month pledged to keep rates unchanged at least until the middle of 2014.
"The sell-off has been excessive and market valuations incorporate high risk premia," Thanasis Petronikolos, who manages $130 million as head of emerging-market debt at Baring Asset Management in London, said by e-mail Dec. 2. "Polish bond yields are too high and the yield curve too steep given the Polish inflation outlook."
The zloty gained 0.1 percent to 4.2008 per euro at 10:18 a.m. in Warsaw, extending this quarter's gain to 0.5 percent, the third-best performance among the 24 emerging-market currencies tracked by Bloomberg. The extra yield on Poland's dollar debt over Treasuries fell three basis points, or 0.03 percentage point, to 143, JPMorgan Chase & Co. indexes show.
"To suffer a loss after 14 years, it's acceptable," Deka's Schottmueller said.
Before it's here, it's on the Bloomberg Terminal.
LEARN MORE