Biden Calls on China to Use Growing Power Responsibly
Bloomberg News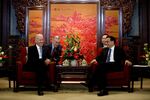 U.S. Vice President Joseph Biden called on China as a rising economic power to act responsibly and said its escalation of a territorial spat with Japan had caused significant apprehension throughout Asia.
The Asia-Pacific will be the driver of the global economy and China's growing economic clout means it will play a bigger role in maintaining regional peace and stability, Biden said in a speech before a one hour meeting with Chinese Premier Li Keqiang at the end of a two day visit to Beijing.
"China will bear increasing responsibility to contribute positively to peace and security," Biden said. "That means taking steps to reduce the risks of accidental conflict and miscalculation," he said.
Biden's trip, originally intended to pin down a Pacific trade deal and renew the U.S. emphasis on Asia, has been overshadowed by China's Nov. 23 announcement of an air defense zone over a large swath of the East China Sea. The area covers a set of islands at the center of a dispute with Japan as well as a submerged rock claimed by both China and South Korea.
"China's recent and sudden announcement of the establishment of a new air defense identification zone has, to state the obvious, caused significant apprehension in the region," Biden told a group of business executives before meeting Li.
Testing Resolve
The U.S. Japan and South Korea have tested China's resolve by sending military flights through the area, and Korea announced today it would extend its own defense zone over the disputed rock, which houses a Korean research station and helipad.
Neither Biden nor Chinese President Xi Jinping mentioned the air zone in public comments yesterday made during a break in more than five hours of talks. Biden said today he had been "very direct about our firm position and our expectations in my conversations with President Xi."
Biden reiterated to Xi that the U.S. doesn't recognize the air defense zone and that he was looking to China to take steps to lower tensions, according to White House officials who asked not be named when briefing reporters on the talks, citing policy.
Xi said yesterday that along with concerns on the global economy, climate change and energy security, "regional hot spot issues keep cropping up." Biden discussed the "limitless" potential for cooperation between the world's two biggest economies "if we get this relationship right."
Korea Talks
Biden travels to South Korea later today and will meet President Park Geun Hye tomorrow. He arrives hours after Defense Minister Kim Kwan Jin announced the plan to extend South Korea's own air defense zone in response to China's move.
North Korea may also feature in talks between Biden and Park as the two seek ways to contain the nuclear threat from the North. Biden and Xi discussed North Korea and whether a recent international agreement for Iran to curtail its nuclear program in return for reducing sanctions could be used as a blueprint for North Korea, the White House officials said.
— With assistance by Henry Sanderson
Before it's here, it's on the Bloomberg Terminal.
LEARN MORE