Baidu's Robin Li is Now the Richest Man in China
By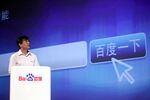 Robin Li, the man who beat Google in China, is now the country's richest person, according to the Bloomberg Billionaires Index. Li's net worth has increased $4.8 billion this year to over $12.2 billion, putting Li ahead of the former No. 1, Dalian Wanda Group chairman Wang Jianlin. Just two weeks ago, Li claimed the No. 2 spot.
The leaders of other Chinese Internet companies such as Alibaba's Jack Ma and Tencent's Pony Ma need to be concerned about Li's rise. His wealth is tied to Baidu's stock price, and he has rocketed up the billionaires list because investors are increasingly confident that Baidu has the right formula for the new era of Chinese e-commerce.
As more Chinese go online with their smartphones and tablets rather than PCs, Li has been focusing on revamping Baidu's business. Baidu has more than 80 percent of the search market in China, but since the company's users typically went to Baidu on computers, investors had worried about competition in mobile. Adding to their worries was the sense that Baidu was not moving fast enough from its reliance on PCs.
They had good reason to be concerned. Li has admits that he initially underestimated the importance of adapting search for smartphones and tablets. "I refused to do a lot on mobile Internet until around 2009," he told Bloomberg TV in an October interview. "But because we didn't start early, it took us some time to figure out what's the important thing, what's the most relevant thing for Baidu."
Nobody should say Li isn't sufficiently focused on mobile now, though. He has directed a series of acquisitions designed to boost Baidu's presence on smartphones and tablets. The biggest was the purchase of mobile app store 91 Wireless for $1.85 billion, which Baidu announced on July 16. That was the priciest deal in Chinese cyberspace history.
Since then, Baidu's stock price has jumped 64 percent. On Nov. 28, the previous owner of 91 Wireless, Hong Kong-listed NetDragon, announced results for the three months ending September, the last quarter before Baidu takes control of the wireless business. Revenue for 91 Wireless increased 203.8 percent from a year earlier, to 261.5 million yuan ($43 million). "We believe Baidu's lastest mobile strategies and efforts to strengthen its overall mobile Internet position and to improve its monetization capability have been proven to be working," Barclays analysts wrote in a report published on Friday.
A year ago, Baidu seemed to be in trouble, with new search competitor Qihoo threatening to take more market share. Thanks to Li's focus on mobile, the new Chinese search market may end up just like the old Chinese search market: with Baidu at the top and all others competing for scraps.
Before it's here, it's on the Bloomberg Terminal.
LEARN MORE