Will the Generals Intervene Again in Thailand?
By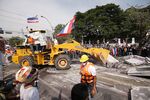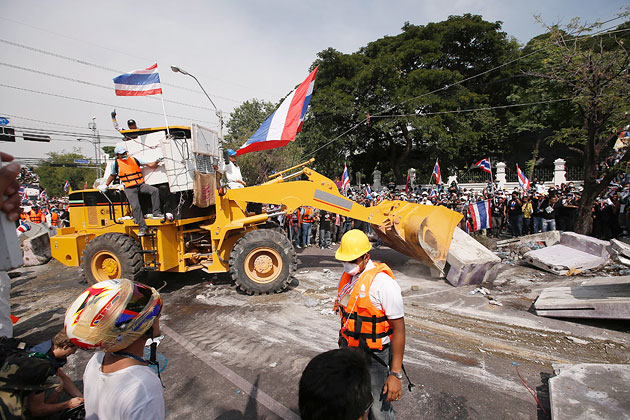 Thai police are trying a new tactic to deal with anti-government protesters in Bangkok. On Monday they fired tear gas at protestors, but today they removed barriers in front of police headquarters, Bloomberg News reports, in a bid to defuse tensions.
The bad news is the anti-government forces seem eager for Thailand's security forces to take sides in the conflict—no small thing in country that has had nine military coups since 1946. Suthep Thaugsuban, the protest leader who was deputy prime minister under the previous government, has called on police to support the movement to depose the government of Prime Minister Yingluck Shinawatra, sister of exiled former Premier Thaksin Shinawatra.
Pimpaka Nichgaroon, head of research for Thanachart Securities in Bangkok, warns that the current unrest could end as it often does in Thailand, with the generals intervening. Chances of a military coup are now 50-50, according to Pimpaka. The anti-Yingluck forces "want some kind of national unity government to help reform the political system before the country has a new election," she wrote in a report published yesterday. However, that kind of regime change is unlikely "without some kind of military intervention or a coup, a risk we see rising from only 5% a month ago to a 50% probability now."
The government's troubles aren't likely to go away, even if Yingluck survives the current battle. There are plenty of additional ways for anti-government forces to get their way. For instance, according to Pimpaka, the National Anti-Corruption Committee (NACC) is investigating 312 lawmakers; if the anti-graft agency finds them guilty, "they would have to cease their duties, creating a political vacuum."
And NACC is also looking at the prime minister herself: "It's just a matter of time" before the country's anti-corruption investigator rules on graft charges related to rice pricing, wrote Pimpaka. In one of Yingluck's most controversial policies, the government agreed soon after taking office to pay farmers inflated prices for their rice. The policy, meant to provide support to people in poor parts of the country, was a flop, leading to huge stockpiles of rice that the government couldn't sell.
Before it's here, it's on the Bloomberg Terminal.
LEARN MORE