U.K. Construction Expands at Fastest Pace in More Than Six Years
Jennifer Ryan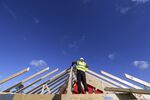 U.K. construction expanded at the fastest pace in more than six years last month, driven by a surge in housebuilding.
An index of construction activity rose to 62.6 from 59.4 in October, Markit Economics said today in London. The median forecast of 17 economists was 59. The gauge has been above the 50 level that divides expansion from contraction since May. Residential construction growth was the strongest in a decade.
The report adds to signs the recovery is maintaining momentum, after Markit's report yesterday showed manufacturing growing the most in almost three years. Bank of England policy makers meeting this week will probably leave the key rate at a record low, in line with guidance set out in August, to cement the recovery.
"There is still a huge loss of output to recoup before the sector reaches its pre-recession peak," Tim Moore, senior economist at Markit, said in the statement. "Looking ahead, there are a number of positive signs that improvements in activity levels will be maintained, as job creation picked up."
Expansion in commercial construction was the steepest since September 2007, while growth in civil engineering was little changed from October, Markit reported. Including homebuilding, growth in orders for new work across all three sectors was the fastest since September 2007.
The balance of firms expecting a rise in output for the coming year was the highest since September 2009, and new job creation expanded the fastest in more than six years, the report said.
Help to Buy
Bellway Plc, a U.K. homebuilder, said Oct. 15 annual profit increased 37 percent after the government's Help to Buy loan guarantee program helped drive a recovery in mortgage borrowing.
Britain's economic growth accelerated to 0.8 percent in the third quarter, and the Bank of England raised its forecasts last month. Markit said yesterday its gauge of factory activity increased to 58.4, the highest since February 2011, from a revised 56.5 in October.
The BOE has pledged to leave the key rate at 0.5 percent until the jobless rate, now at 7.6 percent, falls to 7 percent. All 48 economists in a Bloomberg News survey expect no change to the rate this week, and all 39 economists in a separate poll say the bank will keep its bond-purchase plan at 375 billion pounds ($614 billion). The bank will announce the decision at noon in London on Dec. 5.
Before it's here, it's on the Bloomberg Terminal.
LEARN MORE