Study: Canadian Women With MBAs Are Paid Less, Get Fewer Opportunities
Francesca Di Meglio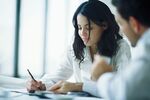 Canadian women in their first job after getting an MBA earn less than their male counterparts and start in lower-level positions, according to a new study by Catalyst, a nonprofit organization that promotes women in business.
The pay disparity—$8,167—may be difficult to make up over a career. Canadian women receive fewer career-accelerating assignments and international opportunities, according to the study, which was released on Dec. 3.
The study points out that a contributing factor in the pay gap is that women are twice as likely as men and their counterparts in other regions of the world to choose noncorporate jobs after earning an MBA. Instead, they take on positions at public and nonprofit organizations, according to the report, titled High-Potential Employees in the Pipeline: Maximizing the Talent Pool in Canadian Organizations.
Canadian women that do enter the corporate workforce are more likely to leave. Twenty-nine percent of Canadian women leave the corporate world, compared with 10 percent of men. According to the study, 72 percent of Canadian women, despite having an MBA on their résumé, started their careers in entry-level positions, vs. 58 percent of men.
The findings are part of Catalyst's larger study that follows the careers of graduates of top business schools in the U.S., Canada, Europe, and Asia. The series includes reports on the recruitment, training, promotion, and retention of these employees.
"Canadian companies competing in a globalized marketplace should take note and consider their recruiting, retention and talent development strategies," Alex Johnston, executive director of Catalyst Canada, said in a statement.
Before it's here, it's on the Bloomberg Terminal.
LEARN MORE