Retail Results Have Been Counted, So We Know Who Wins
by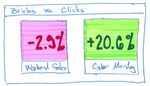 The National Retail Federation correctly predicted this year's holiday shoppers would migrate online at the expense of brick-and-mortar retailers, though the magnitude of the shift is a surprise. In fact, NRF now believes web sales through Christmas will rise three times faster than total retail sales, driven largely by mobile buying.

Three companies led online traffic for the five-day period starting Thanksgiving Day: Amazon, EBay and Wal-Mart, according to digital analytics provider comScore.com. From packages-per-second to page-views-per-day, the numbers speak for themselves.

Shoppers might not be surprised by the results, but we suspect investors could be, especially since EBay has lagged dramatically this year. EBay's stock is up just 1 percent, compared with gains of 19 percent for Wal-Mart and 54 percent for Amazon.

PayPal accounted for 38 percent of EBay's revenue in the third quarter, and with volumes rising 109 percent since a year earlier this weekend, PayPal's significance may also increase; analysts will begin raising earnings estimates in coming days. Thirty-seven analysts rate EBay as a buy, only seven rank it as a hold, and there are no sells. Given the average of 44 analysts' estimates suggests its share price may rise 21 percent, EBay may be right for the shopping cart.
Before it's here, it's on the Bloomberg Terminal.
LEARN MORE