Krispy Kreme Expansion Plans Don't Sweeten Wall Street's Mood
By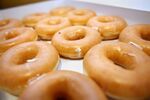 After riding a sugar-glazed high, investors are once again wary of Krispy Kreme. Shares tumbled almost 20 percent on Tuesday after the company's quarterly revenue and fiscal 2015 outlook missed analyst estimates.
But the doughnut maker's earnings report released yesterday evening didn't bring only grim news. Krispy Kreme notched its 20th consecutive quarter of same-store sales growth at company-owned stores, where comparable sales rose 3.7 percent, and franchised stores saw an even larger same-store sales increase of 10.7 percent. True, these increases came largely as a result of higher prices instead of more customers. But the recent sales bump has been enough to push the chain back into expanding its retail footprint in the U.S. after overambitious growth in the early 2000s led many locations to close. Krispy Kreme now has more than twice as many locations abroad as it does in the U.S.
As Dunkin' Donuts enters the western half of the country, with aggressive plans for California, Krispy Kreme is also looking at new markets for its doughnut factories and shops. The next generation of Krispy Kreme facilities are being built smaller than the traditional stores to cut costs, and the chain is focusing on boosting its retail presence rather than pushing supermarket sales.
"Outside of the Southeast, we plan to grow through franchising as we open up the vast portion of the United States that is yet to be franchised," Krispy Kreme Chief Executive Officer James Morgan said at a conference in September. The company's next fiscal year, starting in February, will bring as many as 15 new company-owned stores and some two dozen domestic franchise locations. The doughnut chain aims to have 400 U.S. stores by 2017, up from almost 250 today. And plans call for continued overseas growth through some 85 new international franchise stores.
As part of these efforts, Krispy Kreme announced an agreement yesterday for Dulce Restaurants to develop 10 shops in Houston over the next five years. The franchisee also plans to open an additional 15 Dallas shops by 2018. Last month the company revealed that Alaska will be getting its first four Krispy Kreme shops, in Anchorage and the Matanuska Valley, in the next three years. More announcements will come, Morgan said during Monday's earnings call.
Coffee-and-pastry chains have been doing well in the U.S., but bold expansion plans by Krispy Kreme, Dunkin' Donuts, and Starbucks will make the market more crowded. After taking a beating with investors today, it will be up to Krispy Kreme to prove it can expand its way to stronger results.