Ukrainians Are Caught Between East and West
By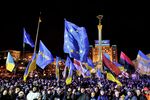 Ukrainians are asking for change—but are they willing to pay the price?
That's the question as anti-government protests enter their second week, with demonstrators demanding that President Viktor Yanukovych approve a trade agreement with the European Union. It's reminiscent of the so-called Orange Revolution in December 2004, when Ukrainians poured into the streets to celebrate after results of a rigged presidential election were thrown out and a pro-reform government installed. But the new government backed away from its promises, and Ukraine today remains Europe's worst economic basket case.
Sadly, the current unrest isn't likely to change that—unless Ukrainians and their government get serious about reforms that would bring them closer to their more prosperous European neighbors.
Yanukovych, for his part, has strong incentives to steer clear of an EU deal in favor of closer ties with Russia. Moscow is offering cheaper natural gas to Ukraine as an incentive. Yanukovych, who plans to seek reelection in 2015, is eager to keep a lid on fuel prices.
By contrast, the EU agreement would require Ukrainians to make sacrifices. "In the absence of any evidence of economic reform, we will not be drawn into a meaningless bidding war over Ukraine's future," the foreign ministers of Poland and Sweden said in a joint statement on Dec. 1.
The reforms being sought by Europe would likely lead to an increase in energy prices, cuts in government spending, and a currency devaluation—all of which, in the short term, would make life harder for most Ukrainians. The payoff, including reduced budget and trade deficits and a more-vibrant private sector, would take years.
What the EU is offering in exchange is surprisingly modest. The trade deal "is not a promise of EU entry. It is not even a promise to start EU negotiations on EU membership," says Charles Robertson, an economist at Renaissance Capital in London. Nor is the EU offering any large amount of financial assistance.
Yanukovych is betting that most Ukrainians aren't willing to accept such a one-sided bargain. That's understandable, considering that Ukraine is already the poorest country in Eastern Europe, after tiny Moldova.
Yet without reform, the outlook for Ukraine looks increasingly scary—even if the protests force Yanukovych to relent, or lead to new elections. "In the post-crisis world where investors exercise greater selectivity in terms of political and economic institutions, Ukraine is in a difficult position," Jeromin Zettelmeyer, chief economist at the European Bank for Reconstruction and Development, said at a recent conference.
Indeed, the yield on Ukraine's sovereign debt has soared this week to the highest on record, reflecting investor concerns that Ukraine will be unable to meet $15.3 billion in debt payments during the next two years.
Over the past 20 years, Ukraine has achieved "virtually no convergence with advanced economies," Zettelmeyer said. "Without reforms, it will likely fall even further behind."
Before it's here, it's on the Bloomberg Terminal.
LEARN MORE