Sovereign Debt Ratings Fall Short of EU Standards, ESMA Says
Ben Moshinsky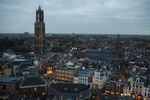 The European Union regulator that oversees Moody's Investors Services, Standard & Poor's and Fitch Ratings said credit-rating companies aren't meeting standards when they grade sovereign debt.
Firms failed to keep ratings decisions secret before publishing them, breached guidelines on conflicts of interest and gave too much responsibility to junior staff members when deciding on the creditworthiness of Europe's governments, the Paris-based European Securities and Markets Authority said in a statement today.
"The focus on the sovereign-rating process in this investigation stems from their increased volatility over the past few years, the importance of sovereign ratings from a credit market and financial stability perspective," Steven Maijoor, ESMA's chairman, said in the statement.
ESMA, which hasn't fined a credit-rating firm since it was created in 2011, said in March that the methodology the firms used to evaluate EU banks wasn't accurate. Investors are becoming increasingly indifferent to ratings; French bonds and U.S. Treasuries both made gains after the countries were stripped of their AAA levels.
The Netherlands had its AAA grade cut last week by S&P, which cited a weaker outlook for the fifth-biggest economy in the euro area. Among euro-area nations, Germany, Finland and Luxembourg still hold AAA ratings at S&P. The Netherlands retains the top rating at Moody's and Fitch.
Possible Fines
Moody's, S&P and Fitch registered with ESMA in 2011, becoming directly supervised by a single EU regulator for the first time. The findings come from a six-month investigation, which may result in fines if the firms don't improve, ESMA said.
The regulator found "several instances of disclosure of upcoming rating actions to an unauthorized third party." This happened "before publication and, in some cases, before the rating committee had taken place," ESMA said.
Global bond yields showed investors ignored 56 percent of Moody's Investors Service and 50 percent of S&P's rating and outlook changes last year, more often disagreeing when the companies said governments were becoming safer or more risky, data compiled by Bloomberg show.
Spokesmen for the three firms said they are committed to complying with the regulations.
Moody's is "managing any potential conflicts of interest as we continue to enhance the performance, processes and transparency that underpin our ratings," said Dan Piels, a spokesman for the firm.
S&P spokesman Mark Tierney said it is "continually enhancing our analytics and operations," while Rebecca O'Neill, a spokeswoman for Fitch, said the firm is "moving swiftly to address any issues identified in the report."
Before it's here, it's on the Bloomberg Terminal.
LEARN MORE