Small Business Saturday's $5.7 Billion Shopping Spree
By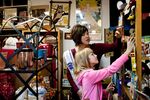 Consumers who were aware of Small Business Saturday spent $5.7 billion with independent merchants on Saturday, according to research published today by American Express and the National Federation of Independent Business.
That number represents the effort to quantify the impact of the campaign, which was launched by AmEx in 2010 as a marketing counterpart to Black Friday and Cyber Monday. AmEx offered rebates to a limited number of cardholders who bought from Main Street shops on the Saturday after Thanksgiving, but the campaign is "payments agnostic," making the impact on small business owners' bottom lines difficult to measure.
The widespread adoption of Small Business Saturday is easier to quantify. Forty-one governors issued proclamations supporting the campaign, and more than 3.3 million Facebook users have "liked" a page dedicated to the promotion.
It's difficult to know whether the push helped open wallets, because it would mean comparing small merchants' total sales that day with an estimate of the amount consumers would have spent absent a campaign.
As proxy for that number, AmEx and the NFIB collected online surveys from 1,000 adults and used the findings to extrapolate to the $5.7 billion figure. That number is 4 percent higher than the $5.5 billion that consumers who knew about Small Business Saturday spent in 2012, according to a press release.
Before it's here, it's on the Bloomberg Terminal.
LEARN MORE