Ross Leads Challenge to Find the B-School Most Supportive of LGBT Community
Francesca Di Meglio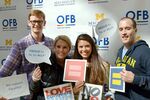 The University of Michigan's Ross School of Business is in first place midway through the second annual MBA Ally Challenge to find the business school that is the most inclusive to the lesbian, gay, bisexual, and transgender (LGBT) community.
This year, 12 of the top 20 B-schools are participating in the challenge run by Friendfactor, a nonprofit that encourages "straight" workers and students to support gay co-workers and classmates. MBA students create and participate in programs that promote awareness and tolerance of the LGBT community. They are judged on the number of students involved, the number of activities, and the results of a survey that measures LGBT awareness and inclusiveness on campus (both before and after the competition). More than 1,800 students have participated so far.
Ross is in the lead—the competition ends in May—thanks to an ally pledge event during National Coming Out Week that involved more than 400 students. Posing with signs supporting the LGBT community, photos they then posted on social media, students pledged to provide a safe and inclusive school environment.
Northwestern University's Kellogg School of Management and MIT Sloan School of Management are in second and third place, respectively.
Before it's here, it's on the Bloomberg Terminal.
LEARN MORE