How Moncler Turned Lavish, Puffy Coats Into a Lavish, Puffy IPO
by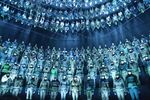 That listless European economy isn't keeping the stock-shoppers from pining for shares of Moncler, a Milan maker of expensive outdoor apparel. The 60-year-old brand is welcoming the clamor from investors as it prepares an IPO in Italy. Last week the company set a bullish share-price range of €8.75 to €10.20, and every share on offer was spoken for.
Moncler specializes in puffy, shiny down coats more likely to be seen in Davos than Detroit. This holiday season, there's a tweed version for the Mr. ($2,200), an furry, dark-green number for the Mrs. ($3,600), and a little down two-piece suit that will make junior look like a toddler Ernest Shackleton ($555).
The company is not a great fit for cost-conscious consumers feeling the pinch of a difficult economy. But Moncler has nestled into a cozy little spot in the market. Apparel brands that go deep in down, such as VF's North Face, tend to focus on function more than luxury. And luxury brands in the coat business skew toward cashmere blends or waxed cotton. Splitting those strategies has Moncler on a tear. In the first nine months of this year, the company posted sales of €389 million, a 22 percent increase if fluctuating exchange rates are ignored. "They are coming at a time when people want luxury," Rahul Sharma, managing director of Neev Capital, told Bloomberg. "Anything that caters to the high end, investors are generally quite pleased to look at."
Much of the credit for Moncler's warm and fuzzy financials is given to Chairman Remo Ruffini, an Italian entrepreneur who bought the company a decade ago. Ruffini quickly moved Moncler from ski shops in Chamonix to the streets of New York. Private equity giant Carlyle Group bought a 48 percent stake in Moncler in 2008, validating Ruffini's strategy. Since then, Moncler's share of sales from direct retail swelled from 15 percent to 40 percent. Meanwhile, it almost tripled its sales in North America.
The big winner in Moncler the next few weeks—beside the tykes getting lavish snowsuits—is going to be Eurazeo, a French investment firm that bought a 45 stake in the down outfit in the summer of 2011 at a market value roughly half that suggested by this week's IPO price. Ruffini, meanwhile, still owns almost one-third of Moncler shares. He's not selling any yet.
Before it's here, it's on the Bloomberg Terminal.
LEARN MORE