Five Thoughts on Black Friday's Lean Results
by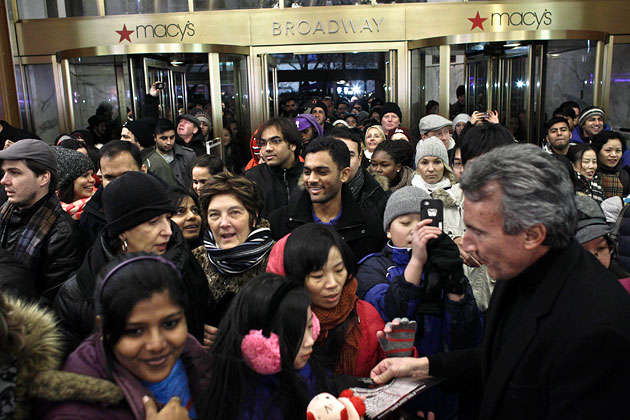 Phew. Black Friday, the big shopping day, is over. So, too, is Thanksgiving—now a big shopping day in its own right. How did it go for America's retailers and consumers?
1. More people shopped this year than in 2012, but it looks like they spent less. According to a survey by the National Retail Federation, 141 million Americans visited stores or websites over the four-day holiday weekend and spent $57.4 billion—2.9 percent less than consumers did last year. We'll have to wait for retailers themselves to report their sales figures for more details.
2. Opening on Thanksgiving time-shifted shopping. Retailers from Macy's to Target, many for the first time, moved up their opening times to compete with the holiday prep and meal. The result: More people roused themselves on Thursday to claim the early discounts. By Black Friday, shoppers stayed home to recover and eat leftovers. Sales on that day fell 13.2 percent from a year earlier, according to ShopperTrak, and the number of people who actually walked into a store dropped 11.4 percent.
3. Expect to hear more in the coming weeks about "mission shopping." That's when someone heads to a store to buy a specific discounted item and then leaves, avoiding the impulse purchases that boost sales for retailers, especially during the holidays. This is likely to hurt retailers' profit margins this year.
4. "Panic sales" are coming. Poonam Goyal, an analyst for Bloomberg Industries, says that since many retailers will be disappointed with the Thanksgiving holiday sales, they'll have to offer discounts through December to make up some lost ground.
5. Similarly, Cyber Monday is now Cyber Week.
Also: According to IBM, online sales increased 19.7 percent on Thanksgiving and 18.9 percent on Black Friday. Not surprisingly, more people used mobile phones or tablets to shop. Amazon.com, EBay, Walmart, Best Buy, and Target were the most visited e-commerce sites on Friday, according to ComScore.
Hopefully, this will all be over in 23 days.
Before it's here, it's on the Bloomberg Terminal.
LEARN MORE