Fed Bailout's $700 Billion Man Eyes GOP Challenge to California Gov. Brown
By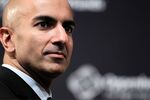 Can the 40-year old face of the federal bank bailout unseat California's popular 75 year-old governor? That's the question voters may get to decide if Neel Kashkari goes through with plans to run as a Republican challenger to California's Governor Jerry Brown. Bloomberg News, following up on a story in the San Francisco Chronicle, reports that the all-but-official candidate "has signed up campaign advisers to Mitt Romney and John McCain" and met with "almost 700 potential donors from around the U.S."
Kashkari is best known for his work as head of the Troubled Asset Relief Program for seven months at the height of the financial crisis, from late 2008 into 2009. The demanding and contentious role led the Washington Post to annoint him the "the $700 billion man." Kashkari left the Treasury Department in 2009 and soon joined Pimco to lead the bond giant's move into equities. That effort has yet to take flight—by the time Kashkari left Pimco this past January, "the firm managed $10 billion in equities, less than 1 percent of its total assets," according to Bloomberg News. "Three of the firm's four main stock funds trailed a majority of rivals in 2012."
Kashkari said he left Pimco to ponder a return to public service, prompting immediate speculation that he'd run for governor. The former Goldman Sachs banker has a personal website with all the makings of a campaign site, minus mention of any particular office. Kashkari, who filed for divorce in 2011, also has Twitter feeds for his two mammoth Newfoundlands, Newsome and Winslow, a darn cute puppy.
Since mid-summer, Kashkari's been criss-crossing California, visiting a Sikh parade in Yuba City;
farm workers in Salinas;
and non-profit leaders in Orange County.
From his public comments, one can start to piece together the makings of a center-right platform: support for abortion rights and gay marriage, pro school reform, interest in more funding for higher ed (with a focus on online learning through MOOCs), opposition to high speed rail (but pro Elon Musk's futuristic Hyperloop), and distaste for deficit spending.
If he runs, Kashkari faces an uphill battle. His close association with the unpopular bailout could hurt him, especially in contrast to Governor Brown's "unsentimental, grown-up leadership," which has reduced the state's debt and kept spending low. Still, he's positioning himself as a person who will make "big changes" (he recently described Brown as someone who is "great at managing the status quo").
"After decades of benign neglect," Kashkari states on his website, "I believe it is our duty to finally have an honest discussion … and take bold action to help all Californians succeed."
Before it's here, it's on the Bloomberg Terminal.
LEARN MORE