Ex-Malaysia PM Mahathir Quits as Petronas Adviser After Illness
Ranjeetha Pakiam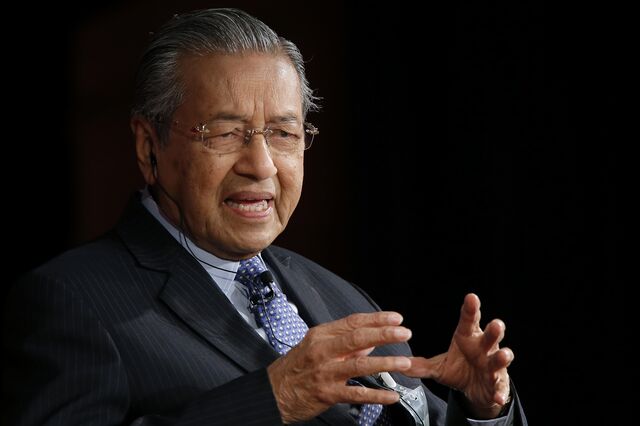 Mahathir Mohamad, Malaysia's 88-year-old former premier, stepped down from his post as adviser to state energy company Petroliam Nasional Bhd., less than a week after being discharged from hospital.
The resignation took effect on Dec. 1, according to an e-mailed statement from his assistant Sufi Yusoff, which didn't give a reason. Mahathir, who retired as prime minister in 2003 after 22 years in power, will retain some other roles, including his position as an adviser to Proton Holdings Bhd., a carmaker he had founded in 1983, he said.
Mahathir, a medical doctor, was discharged from hospital after being treated for a chest infection and is required to continue his exercise program and physiopherapy, state news service Bernama reported on Nov. 25. He suffered heart attacks in May 2007 and November 2006 and was hospitalized in April 1999 with a lung infection. The former premier also underwent heart-bypass surgery in 1989 and again in September 2007.
"He's trimming his activities," Ibrahim Suffian, a political analyst at the Merdeka Center for Opinion Research, said by phone. "It just means he's going to focus on a few things, and not be engaged as much in Petronas' business. He will still be focused on the country's politics, partly because he's still very interested in it and he still has a lot of things to say."
While in power, Mahathir was criticized for disabling the judiciary and media, and for attacking Western investors including George Soros. Still, he turned the rubber-exporting nation into an international manufacturing base and an Asian "tiger" economy held up by the U.S. as a model Islamic democracy.
He will remain adviser to the Langkawi Island Development Authority, Tioman Island Development Authority, and Chancellor of Universiti Teknologi Petronas, the statement showed.
Before it's here, it's on the Bloomberg Terminal.
LEARN MORE