The Data Behind the Wide-Open Heisman Trophy Race
By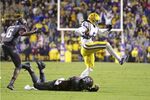 Ballots for the Heisman Trophy have been sent to voters with a Dec. 5 due date, making this weekend's slate of games hugely important in deciding the outcome of college football's top individual honor. In most years at this point in the season, forecasting the winner can be relatively easy, but 2013 is anything but normal, and several players—all flawed in the eyes of voters—have reasonable shots of winning. Time for anyone concerned with the outcome to take a refresher on the history and politics that shape the Heisman.
Since it was first awarded in 1935, there have been 76 different winners (leaving out USC's Reggie Bush, whose 2005 award disappeared from history in a disciplinary action by the NCAA). Here's the distribution of awards, by position:

Johnny Manziel, Texas A&M's sophomore quarterback, famously won the award last year and became the first freshman ever to do so. This year he is trying to achieve another rare feat, joining Ohio State's Archie Griffin (1974 and 1975) as the only two-time winners.
The awards won by class year look like this—and note that the sophomore and freshman winners have all won since 2007:

In total, 21 nonseniors have won the award. How did they do in the next year? Not great. Let's focus on the past 50 years of data, starting with Roger Staubach in 1963. Here's how the nonsenior Heisman winners fared:
• 8 left for the pros;
• 6 had performance drops measured by yardage for quarterbacks and running backs (including Archie Griffin, who still won the Heisman a second time);
• 2 suffered significant injuries, which reduced their numbers;
• 2 quarterbacks increased their passing yardage but had worse touchdown-to-interception ratios.

The final line is interesting. The two players represented there are Matt Leinart, who won in 2004 and put up strong numbers in 2005 while finishing third in the Heisman voting, and the current stats racked up by none other than Johnny Manziel. The Texas A&M star has more passing yards per game this year, and he's thrown more touchdowns, too, but he also has more interceptions and has already lost a couple of big, spotlight games. Much like Leinart in 2005, Manziel may very well end up third in this year's vote.
Here's a breakdown of Leinart's progression. He won the Heisman in 2004, the year in bold:
And here are Manziel's passing stats so far in 2013, comparing very well with his 2012 Heisman season.
 Johnny Manziel
Passing
Year
School
Conf
Class
Pos
Cmp
Att
Pct
Yds
Y/A
TD
Int
*2012
Texas A&M
SEC
FR
QB
295
434
68.0
3706
8.5
26
9
2013
Texas A&M
SEC
SO
QB
246
356
69.1
3537
9.9
32
13
Career
Texas A&M
541
790
68.5
7243
9.2
58
22
In Manziel's case, a big reason why he won in 2012 was his running game—and that part of his attack has suffered in 2013, becoming a key reason why most pundits see him as unworthy of the award again.
Understanding the Heisman Electoral College: If Johnny Football is unlikely to repeat, who remains a strong contender for this the trophy? Chris Huston is the college football expert behind the website Heisman Pundit. He directed successful award campaigns for USC quarterbacks Carson Palmer and Leinart and has been a Heisman voter himself since 2009. The selection process, as Huston sees it, has more in common with the Electoral College of presidential elections than the popular vote it appears to be.
Voters are evenly split into six regions, with 145 voters in each, plus 58 living Heisman winners who also cast ballots. Huston looks at it like a political race, where off-field factors, such as publicity, can play a big role, and award campaigns supported by regional media organizations make a big difference helping a local candidate.
Regional voters will often vote for "favorite sons." Voters in the Far West, for instance, will be much more likely to put Oregon QB Marcus Mariota at the top of their ballots, while voters in Texas could have Manziel at the top. Boston College's Andre Williams will benefit in the North East region, and South voters could be more willing to vote for Florida State's Jameis Winston or Alabama's AJ McCarron.
But this year one region in particular could play a deciding role: "The Midwest is key," Huston says, "because there is a natural candidate in every other region." The ultimate winner will need to finish first or second in the Midwest to be a viable threat, and there's no easy way to predict who will emerge on top in the region. "Definitely a crazy race," Huston says of this year's vote. Usually at this point in the season, he knows who will win, but right now he can find "paths to winning" for four different athletes—language that immediately recalls images of presidential election analysis on CNN.
Because there is no obvious favorite and every major candidate has flaws, Huston believes this year's winner will end up with a low point total. With a couple weeks left in the season, the big names have plenty of opportunities to fall further, which would open the door for dark-horse candidates. And that might be good news for the recently emerging phenomenon of younger winners.
When Tim Tebow became the first sophomore to win the award, it was the beginning of a three-year winning streak for sophomores. And Manziel's win might have opened the door for other freshman to win in the future. Many prediction websites see Jameis Winston, a freshman quarterback for Florida State, as this year's likely winner: He's currently the top candidate, according to projections by CBS, ESPN, USA Today, and several betting websites.
Huston says there will never be another repeat winner—which means Manziel is out—and his own latest projection puts Winston in front. Duke statistician Daniel Heard has charted out the projected leaders each week throughout the season. You can see that the front-runner has already changed several times.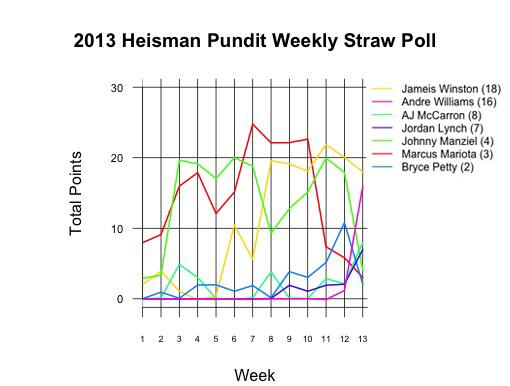 Winston is currently the favorite to win, but just barely, and the possibility remains that criminal allegations could derail his chances at the last minute. Because of all the uncertainty around the various flawed candidates, experts such as Huston believe this year's winner could end up having a very low score measured as a percentage of the total possible votes. We could be looking at a winner taking only about 30 percent of the total, which would be one of the all-time worst winning percentages.

The recent historical trend has moved in the opposite direction, toward increasingly larger blowout wins. Most of the recent Heisman winners claimed more than 70 percent of the possible votes. The wide-open field makes it harder to pick a winner but easier to know that whoever does win will end up with a very low point total.
Before it's here, it's on the Bloomberg Terminal.
LEARN MORE