TeliaSonera Fires Finance Chief as Fallout From Probe Widens
Adam Ewing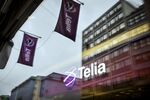 TeliaSonera AB fired Chief Financial Officer Per-Arne Blomquist and three other senior executives as the fallout from an ethics investigation into the Swedish phone company's business practices in former Soviet countries widened.
Tero Kivisaari, who was head of mobility services until last month, is among the dismissed managers, according to TeliaSonera spokesman Salomon Bekele. The employees lost the "trust of the board" amid a company probe into transactions in Eurasia, Stockholm-based TeliaSonera said today.
Blomquist, who joined TeliaSonera in 2008, "hasn't done enough in his capacity to prevent these transactions from being conducted in the way they have," Chief Executive Officer Johan Dennelind said during a conference call. He declined to name the other individuals, elaborate on what conduct should have been prevented or on what the dismissed employees did wrong.
Lars Nyberg resigned as CEO on Feb. 1 after a law firm hired to look into corruption accusations concluded TeliaSonera should have been more careful when it bought an Uzbeki phone license in 2007. Swedish prosecutors opened an investigation last year into whether TeliaSonera knew, or should have known, when it bought the license from Takilant Ltd. that the money went to President Islam Karimov's family.
TeliaSonera said today that its "processes for conducting some transactions have not been in line with sound business practices" and that it will continue to review transactions from the past few years in its Eurasia unit, which operates in Uzbekistan, Kazakhstan, Azerbaijan and other former Soviet and Asian countries.
Eurasian Expansion
Swedish prosecutor Gunnar Stetler wasn't immediately available to comment. A spokeswoman for Norton Rose Fulbright, a law firm hired in April to review TeliaSonera's transactions with partners in Eurasia, declined to comment.
Another law firm, Mannheimer Swartling, this year faulted TeliaSonera for a lack of adequate internal controls against corruption, while saying it found no evidence of bribery or money laundering.
TeliaSonera shares fell 2.2 percent to 53.25 kronor at 4:59 p.m. in Stockholm, giving the carrier a market value of 231 billion kronor ($35 billion). Sweden's government has a stake of about 37 percent in the company.
The company has expanded beyond the Nordic region to boost revenue as falling prices and in its saturating home markets limit growth. Sweden accounted for about 36 percent of sales last quarter, and about 22 percent came from the Eurasia unit.
Christian Luiga, head of the CEO's office, will take over as acting CFO. Dennelind, a former Vodacom Group Ltd. executive with emerging-markets experience, was named as Nyberg's replacement in June.
"Together with the board I have come to the conclusion that the way some transactions in the past were managed does not live up to the high standards of business ethics and transparency that TeliaSonera wants to stand for," Dennelind said in a statement today.
Before it's here, it's on the Bloomberg Terminal.
LEARN MORE