Spain Rating Outlook Raised at S&P as Expansion Resumes
Charles Penty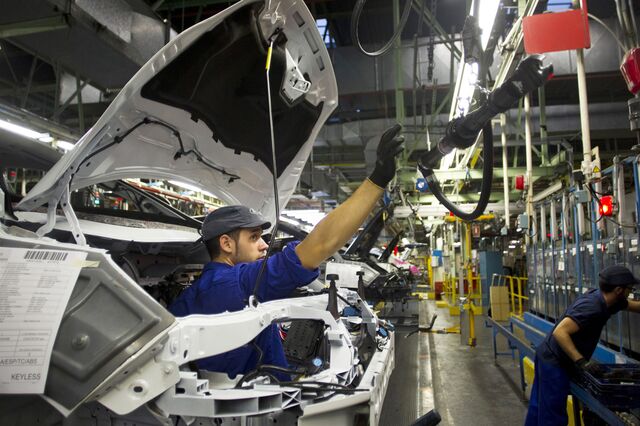 Spain's rating outlook was raised to stable from negative by Standard & Poor's as the economy resumes growth and the government pushes through spending cuts.
"Today's rating action reflects our view that Spain's external position is improving as economic growth gradually resumes," the ratings company said today in a statement. S&P affirmed its BBB-/A-3 long and short-term ratings on Spain.
Spanish Prime Minister Mariano Rajoy is trying to fuel growth after a six-year economic slump that pushed Spain into taking a 41 billion-euro ($56 billion) bailout from Europe last year to shore up its banking system. While Spain's diversified and prosperous economy supports its debt ratings, "strong headwinds" persist for growth as demand suffers due to high unemployment, reduced wages and spending cuts, S&P said.
Investors often ignore ratings, as evidenced by the rally in Treasuries after the U.S. lost its top grade at S&P in 2011. Yields on sovereign securities last year moved in the opposite direction from what ratings suggested in more than half of 32 upgrades, downgrades and changes in credit outlook, according to data compiled by Bloomberg.
The yield on Spain's 10-year benchmark bond fell to 4.14 percent today from 4.15 percent yesterday. That compares with a euro-era high of 7.75 percent in July 2012 just before European Central Bank President Mario Draghi pledged to safeguard the single currency.
S&P also today cut its rating on the Netherlands to AA+ from AAA, citing weaker economic-growth prospects. The outlook was raised to stable from negative.
Spain's Economy
The rating company predicts Spain's economy will shrink 1.2 percent this year before growing 0.8 percent in 2014 and about 1.2 percent in 2015 on the back of robust exports.
Spain's general government deficit will be about 6.5 percent of gross domestic product this year, excluding the cost of the recapitalization of the banking industry, S&P said. The government will probably broadly meet its deficit target of 5.8 percent of GDP in 2014, the ratings company said.
"We consider that the current recovery does not have a meaningful impact on the pace of budgetary consolidation," S&P said, adding that it sees net general government debt rising to 93 percent of GDP in 2016 from 83 percent of GDP in 2013.
Before it's here, it's on the Bloomberg Terminal.
LEARN MORE