Porter's Bombardier-Fueled Expansion Hits a Snag
Frederic Tomesco and Gerrit De Vynck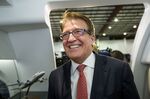 Porter Airlines Inc.'s bid to more than double its flight network by flying Bombardier Inc. jets from the Toronto island airport suffered a setback after the city said it needs more time to study the proposal.
Toronto City Council should delay a Dec. 16 vote until March 2015 to review a runway extension, noise issues and infrastructure required for the addition of jets at Billy Bishop airport, city staff recommended in a report yesterday. The airport, which has posted an 88-fold jump in traffic since Porter began operating in 2006, is favored by financial professionals for its proximity to downtown and flights to U.S. cities including Chicago and Boston.
Closely held Porter unveiled plans in April to add as many as 30 CSeries jets in an order valued at as much as $2.1 billion from Montreal-based Bombardier to reach as far as Los Angeles and the Caribbean as it challenges the country's two biggest carriers, Air Canada and WestJet Airlines Ltd. The order, which would be Bombardier's first for the aircraft with a Canadian carrier, is conditional on the runway extension and a removal of the jet ban.
"Is the order dead? No, but there is still a substantial amount of work ahead and this report just adds to it," Chris Murray, a transportation analyst at AltaCorp Capital Inc. in Toronto, said yesterday in a telephone interview. "It's a political process, it's a development process, it's a technical process and it's a very long process. There are many interested parties involved, and this is not going to be happening anytime quickly."
Geared Turbofan
Bombardier says the CSeries planes, which will feature the new geared turbofan engine from United Technologies Corp.'s Pratt & Whitney, will be about four times quieter than existing jets. The company said last month it will need months to assess performance data on the CSeries after conducting the plane's first flight Sept. 16. Bombardier is planning about 2,400 hours of flight tests on the jet, whose development program will probably cost about $3.9 billion.
"This situation is a great example of some of the issues Bombardier faces with a lot of airline customers," Murray said. "The technical data probably won't be ready before April or May."
'How Big?'
Deputy City Manager John Livey will present the report on the expansion to Toronto's executive committee on Dec. 5. The report will then go on to a Dec. 16 city council meeting, where all 44 councilors and the mayor will vote on whether to approve Porter's request.
"We have not had enough analysis and enough attention to the issues that have been raised," Livey, who's in charge of Toronto's waterfront and infrastructure spending, told reporters yesterday. "The question remains, how big is this airport going to be?"
Bombardier fell 0.2 percent to C$4.78 at the close in Toronto. The shares have increased 27 percent this year.
About C$180 million ($170 million) to C$300 million in infrastructure work in the area around the airport would be required to accommodate more passenger traffic, according to estimates by the city's transportation consultant, BA Group.
Under a three-way accord among the Toronto Port Authority, Canada's government and the city, jets are banned at Billy Bishop until 2033. The airport is now the ninth-busiest in Canada, according to the city report. Traffic jumped to 2.3 million passengers in 2012 from 26,000 in 2006.
'Study to Death'
Noise isn't the issue, said David Shiner, a Toronto city councilor. The Toronto Port Authority needs to come up with a master plan for the airport's future and describe how it will handle issues from passenger capacity to increased vehicle traffic in the area, he said.
"If you can't answer how you're going to manage the issues that come out of running an airport, if you don't have a master plan, which every other airport has, how can you expect city council to support anything?" Shiner said yesterday at City Hall.
Toronto is competing against fast-growing cities for investment that make decisions much more quickly, Deputy Mayor Norm Kelly said. He would rather see the council vote on the plan, with tight conditions, this month than wait for more studies.
"There are some things you could study to death," Kelly said. "You have to answer the basic question: Is this a city asset and, if it is, do you want to grow it?"
Ford Affair
Kelly took over most of the powers and duties formerly held by Mayor Rob Ford after city council voted to censure him in the wake of his admissions that he had smoked crack cocaine and bought illegal drugs while in office.
Porter remains confident of winning approval for a proposal that will boost employment, Chief Executive Officer Robert Deluce said yesterday.
"These sorts of opportunities to create 1,000 jobs don't come along every day," he said yesterday in a telephone interview. "Those who call for additional time and additional study are the very same individuals who never wanted to have it studied in the first place."
Before it's here, it's on the Bloomberg Terminal.
LEARN MORE