On the Shopping List: Retailers With the Best Sales Growth
by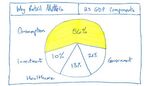 Black Friday is the biggest day of the year for the biggest sector in the economy.
We are a country of consumers, and we are consuming more than ever before. The National Retail Federation forecasts overall holiday shopping will rise 3.9 percent this year to $602 billion. According to NRF Chief Economist Jack Kleinhenz, "The economy continues to expand, albeit at an unspectacular pace. Our forecast leaves room for improvement, while at the same time provides a very realistic look at the state of the American consumer and their confidence in our economy."

The growth may be unspectacular, but it's also unmistakable. U.S. retail sales now exceed pre-crisis levels.

So today we focus on retailers whose same-store-sales are rising the most. The top 10 span a variety of products and price points, which we think bodes well for the economy as a whole.

These 10 retailers have managed to increase sales 8 percent to 20 percent, significantly outpacing overall U.S. gross domestic product growth of 2.8 percent. Stocks reflect the gains, and as Strategas Strategist Nick Bohnsack reminds clients this morning, history suggests another period of outperformance in January when actual earnings are reported.

Before it's here, it's on the Bloomberg Terminal.
LEARN MORE