On Black Friday, Strikes and Counterstrikes at Wal-Mart's Stores
By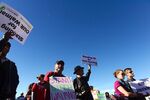 I've never received as many e-mails about Wal-Mart or from Wal-Mart as I have in the past couple of days. Company executives have been furiously trying to undermine Black Friday protestors and promoting their Black Friday deals, all at the same time. The organizers of the protests—rallies were planned at some 1,500 stores around the country—have been busy, too. The group of workers, OUR Walmart, is asking that Wal-Mart Stores pay higher full-time wages, $25,000 a year, and offer more full-time work. They also want Wal-Mart to stop retaliating against workers who participate in strikes. A few protestors also planned acts of civil disobedience that could get them arrested.
David Tovar, the vice president of communications at Wal-Mart, sent a mass e-mail to journalists a week before Black Friday. It included tips for reporting on the protests, even specific questions to ask. Some were legitimate—for example, "How many of the protestors work at Walmart?"—and reporters have been asking them. The organizers haven't been able to provide any specifics yet but say that a large number of workers are part of the protests.
He also acknowledged the national discussion about service jobs and the minimum wage: "As a large employer with many entry level jobs, we have a responsibility to be part of this conversation." He ended the e-mail by promising that Wal-Mart would have "low prices on some of the season's hottest items."
By the day before Thanksgiving, Wal-Mart had gotten word of the planned civil disobedience. In his e-mail, Tovar called the potential arrests "just another way to make these orchestrated events seem newsworthy." He also touted Wal-Mart's $98 32-inch LED TV.
Black Friday dawned with an e-mail quoting Bill Simon, the president of Walmart U.S.: "Our Black Friday events were bigger, better, faster, cheaper, and safer than ever." That arrived at 6:05 a.m. Wal-Mart's first in-store sales had been available for 12 hours.
At noon, OUR Walmart held a conference call for journalists. "These protests are a powerful escalation by workers and community supporters who refuse to live in fear, who are sick and tired of Walmart's empty promises and PR lies," said Martha Sellers, a member of the group who works at a Walmart in California. "To improve our economy we need Walmart to improve jobs."
About 90 minutes later, we heard from Tovar again. He sent out an e-mail saying that the majority of Wal-Mart's workforce is already full-time and that the average wage for full-time workers is $12.81 an hour. He also said that the average wage for all its workers is close to $12 an hour.
Wal-Mart followed up with a video of sound bites from Tovar and a graphic about its wages and benefits.
Meanwhile, the protests continue.
Before it's here, it's on the Bloomberg Terminal.
LEARN MORE