Latour '04 Touches Six-Month Low as Bordeaux Prices Slide
Guy Collins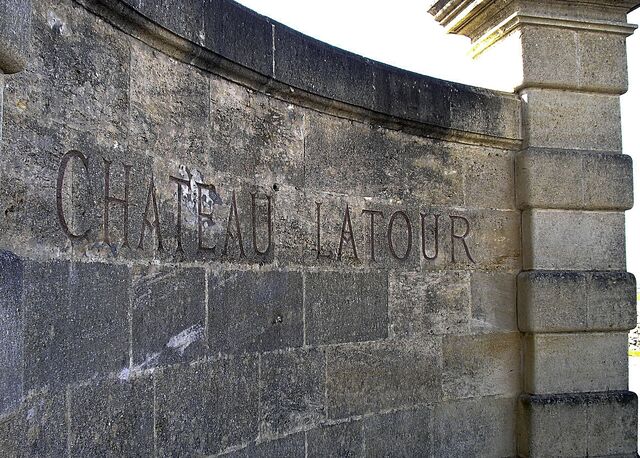 A case of 2004 Chateau Latour, a first-growth wine estate in Bordeaux's Pauillac district north of the city, sold for 3,366 pounds ($5,500) on Liv-ex this week, its lowest level for six months amid weakening Bordeaux demand.
The sale, on Nov. 27, was 11 percent below its 2013 high in March of 3,770 pounds and took the wine to its lowest since May, according to data on the London-based market's Cellar Watch website. The vintage has traded between 3,400 pounds and 3,500 pounds for the past four months, and a case sold again yesterday at the 3,400 pound level.
The Liv-ex Fine Wine 50 Index tracking top Bordeaux wines is heading for its seventh monthly decline in the past eight, after erasing the gains it made in the first 10 weeks of the year. The index has fallen almost 9 percent since mid-March as collectors and investors, deterred by prices of recent vintages, have diversified outside the region.
"If you look at the relative prices of a lot of wines, I can't help but think that maybe there's a little more to come off," Joss Fowler, director of fine wine at London broker Fine+Rare, said in an interview. "The wines that are correctly priced are selling."
The Nov. 27 sale took the 2004 Latour vintage 31 percent below the peak at which it traded in March 2011, when Asian demand for Bordeaux first growths was at its height. It has more than tripled from the 1,050 pound level at which it traded in June 2005, as it was released to the market.
Sales Policy
The 2004 Latour is the estate's cheapest vintage of the last 15 traded years, up to and including the 2011, according to merchant prices collated by Liv-ex. Since last year's vintage, Latour no longer releases wine to the futures market, electing to mature it in its cellars and sell it closer to when it's ready to drink.
The 2004 Latour was given a rating of 95 points on a 100-point scale by U.S. wine critic Robert Parker in an online tasting note in June 2007, ranking it below the 2005, 2008, 2009 and 2010 wines, according to the eRobertParker.com website.
A case of the same estate's 2008 wine sold for 3,513 pounds on Liv-ex on Nov. 27, taking that vintage to its lowest level on the London exchange since February 2010.
Chateau Latour, with 78 hectares (193 acres) of vineyards, traces its wine-growing history back to at least the 16th century and has been owned since 1993 by French billionaire Francois Pinault, according to its website.
It was one of the first Bordeaux wine estates to install stainless-steel tanks in its winery in the 1960s and fully renovated them in 2001.
Latour is one of the five first-growth wine estates on the left bank of the Gironde estuary and one of three in the Pauillac district, along with Chateau Lafite Rothschild and Chateau Mouton Rothschild. The classification was drawn up for Napoleon III's 1855 Paris Exhibition, and remains in force, with Mouton joining the rank of first-growth in 1973.
Before it's here, it's on the Bloomberg Terminal.
LEARN MORE