Fordham Athletics Placed on NCAA Probation for Scholarship Error
Eben Novy-Williams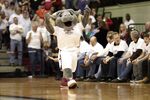 Fordham University's athletic department was placed on probation for two years and fined $20,000 after the school failed to monitor scholarship requirements for 87 athletes.
A majority of the penalties were self-imposed by the Bronx, New York-based Jesuit university, the National Collegiate Athletic Association said this week in a release on its website. The athletic department will also send staffers to an NCAA rules seminar and have a compliance review from an outside agency.
"We are disappointed that a violation was committed but have cooperated with the NCAA in every step of the process," Fordham Athletic Director David Roach said in an e-mailed statement. "We vow to learn from this mistake and believe that this will make us a stronger department moving forward. We will work to ensure that we are 100 percent compliant with all NCAA rules and regulations in the future."
Fordham failed to verify the number of required summer-school credit hours for scholarship athletes from 2008 through 2011, according to the NCAA release.
The school mistakenly thought the NCAA allowed the university to award scholarships to students enrolled in three credit hours in the summer prior to full-time enrollment, as opposed to the required six hours, according to the release. The NCAA had proposed reducing the requirements before deciding to leave them alone.
Fordham's football team finished the season 11-1, a program record for wins, and will host Sacred Heart University tomorrow in the first round of the NCAA Football Championship Subdivision playoffs. The release didn't list what sports were involved in the infractions.
Before it's here, it's on the Bloomberg Terminal.
LEARN MORE