Finland Shields AAA With $12.3 Bln Plan to Ease Spending
Kasper Viita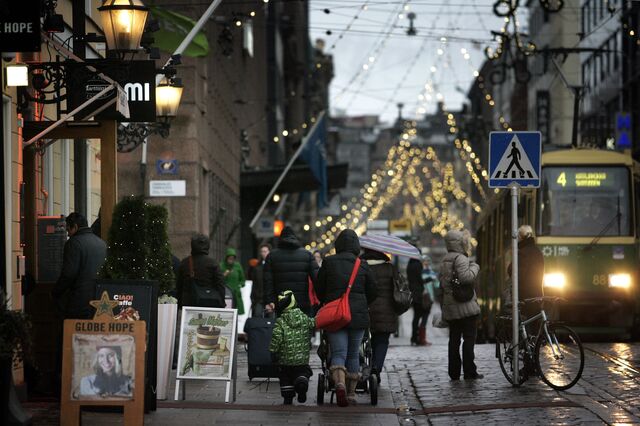 Finland's government hammered together details of a package to streamline and reduce public spending to help pay for the costs of Europe's fastest-aging population and protect its AAA rating.
The plan eliminates the gap of more than 9 billion euros ($12.3 billion) in public finances by 2017, the government said in a statement in Helsinki yesterday after bringing months of negotiations to a close. It will cut municipal expenditure by reducing tasks and regulations, extend careers and reduce structural unemployment.
The sustainability gap equals 4.7 percent of gross domestic product and measures the difference between available funds and the amount needed to pay for future public spending. The plan was unveiled in August.
Finland's population is aging at the fastest pace in the European Union as people born after World War II retire. Two recessions in four years have pushed up job losses and depleted government coffers, resulting in five years of budget deficits. The recessions compounded the effect of aging on public finances and the government has been repeatedly forced to admit its excessive optimism over economic growth, cutting forecasts at least nine times since coming to power in 2011.
"Municipal obligations have over decades grown so much that it's not realistic to think they would be able to provide all the most important basic services alone," Prime Minister Jyrki Katainen told reporters in Helsinki yesterday. "This program of reforms isn't foremost intended to cut expenditure, but to renew public sector structures."
Main Decision
Reducing tasks of municipal authorities, which are in charge of primary health care, education and other social services, will erase about 1.3 billion euros of the sustainability gap. The government targets longer careers by getting students to enter the work force faster and increased incentives for the unemployed to accept jobs or risk losing benefits. The revamp of social and health care services that's being drafted separately is included in the plan.
This is "overwhelmingly" the most important decision for the current government, Aki Kangasharju, chief economist at Nordea Bank AB in Helsinki, said by phone before the plan was unveiled.
"Today's package determines whether Finland's rating will be the next to fall," he said. "We need a clear message on how both the sustainability gap and competitiveness problems will be dealt with."
The Netherlands was cut to AA+ from AAA at Standard & Poor's yesterday, leaving Germany, Finland and Luxembourg as the only euro-area countries with AAA ratings at the three main ratings companies. Of those, only Finland has a stable AAA rating at all three.
Ratings Threat
Standard & Poor's said on Oct. 18 it could lower the government's rating if, contrary to its expectations, structural problems aren't adequately addressed. Fitch Ratings said Oct. 24 that failure to address the impact on public finances from demographic changes and an already weaker growth path in the medium to long term could lead to a downgrade.
The recessions, weak exports and the decline of Finland's biggest industries -- paper and technology -- have driven output down well below its 2008 level. Debt will exceed the 60 percent of GDP European Union rule next year, the government forecasts.
Debt Breach
"We're presenting the toolbox for repairing the welfare society," Finance Minister Jutta Urpilainen told reporters yesterday. "This plan includes difficult measures, yet I believe the people will understand why we are taking them."
The government will assess the implementation status of the plan and decide on possible further measures during its spending-limits negotiations in March.
The loss of its AAA credit grade would be more severe for Finland than it was for France in January 2012 because less of its debt is held domestically, Kangasharju said. More than 90 percent of Finnish bonds are owned by foreign investors, according to Nordea. In France and Germany, this figure is less than 60 percent, according to International Monetary Fund data.
"Another aspect is that the daily trading volume in Finnish bonds is small enough that any disturbances would quickly make the rates jump," Kangasharju said. "It's a bigger issue for a small country than for a large one."
Before it's here, it's on the Bloomberg Terminal.
LEARN MORE