UBS Says Co-Head of Currency to Step Down on Unit Revamp
Elena Logutenkova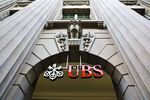 UBS AG, Switzerland's biggest bank, said Chris Vogelgesang will step down as co-head of foreign exchange and precious metals as the bank merges the unit with rates and credit amid regulatory probes into currency markets.
The units "have gone through a number of significant changes that have substantially strengthened and more closely aligned their business models," Andrea Orcel, 50, head of the investment bank, said in a Nov. 19 memo to employees obtained by Bloomberg. The contents were confirmed by UBS. Vogelgesang will work with Chris Murphy and George Athanasopoulos, who will lead the new unit, while looking for other roles in the bank.
The reorganization comes amid regulatory probes into possible rigging in the foreign-exchange markets in the U.K., the U.S., the European Union and Switzerland. UBS scaled down its rates and credit businesses last year to boost profitability at the investment bank. Credit Suisse Group AG, the second biggest Swiss bank, is also setting up a new division to combine rates, foreign-exchange and commodities operations.
"The integration is not a change in strategy, rather a natural evolution of what we are trying to achieve," the UBS memo said. The foreign exchange and precious metals and the rates and credit units "have performed well" and "will continue to outperform against our strategic objectives."
Currency Probe
UBS has been conducting an internal review of its foreign exchange business since June. The bank said last month it has been among financial institutions to receive requests for information from authorities and is cooperating with the probes.
Under Chief Executive Officer Sergio Ermotti, the bank last year decided to exit most of debt trading at the investment bank, cut 10,000 jobs and focus on money-managing businesses. UBS said at the time, the investment bank would keep its advisory unit, as well as equities, foreign exchange and precious metals, and will maintain facilitation capabilities in rates and credit.
Revenue from foreign exchange, rates and credit fell to 312 million francs ($345 million) in the third quarter from 417 million francs in the year-earlier period. Equities trading, which is the other part of the investor client services business at the investment bank, saw revenues rise to 890 million francs from 725 million francs.
Murphy, Athanasopoulos
Murphy joined the bank in 2009 as the global product head for rates derivatives. Prior to that he spent 14 years at Morgan Stanley, holding a number of positions including the head of European rates trading. He holds a master of arts degree in mathematics from Cambridge University.
Athanasopoulos joined UBS in July 2010 as global head of foreign exchange and precious metals distribution and in March 2011 assumed the responsibility of co-head of global foreign exchange with Vogelgesang. Before moving to UBS, Athanasopoulos worked at Barclays Plc and Merrill Lynch & Co. He holds a degree in mechanical engineering from the National Technical University of Athens and a masters from Cass Business School.
Vogelgesang joined UBS in 2009 after 13 years at Merrill Lynch, where he worked in various roles in foreign exchange, fixed income and equity derivatives trading. He holds a degree from Saarland University in Saarbruecken, Germany and a master of business administration from the University of Texas in Austin.
Before it's here, it's on the Bloomberg Terminal.
LEARN MORE