Up Next: Star Witness in the Government's Case Against SAC Portfolio Manager
by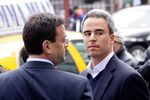 "Being in trial," writes Jonathan Harr in A Civil Action, the classic account of the legal battle between a group of parents and three corporate polluters, "is like being submerged in deep water for weeks at a time."
This was starting to feel right during the trial of Michael Steinberg, the SAC Capital portfolio manager charged with insider trading, who is currently on trial in federal court in lower Manhattan. After several days of testimony from Jesse Tortora, a former Diamondback Capital analyst cooperating with the government, the jury looked to be close to unconscious—not to mention the three-plus rows of well-dressed Steinberg supporters soldiering through the proceedings without benefit of any electronic devices. All that changed on Tuesday afternoon, when the government summoned its star witness.
Jon Horvath, a former computer-stock analyst at Sigma, a hedge fund that's part of Steven Cohen's SAC Capital, was born in Sweden, grew up in Canada, and reported to Steinberg for six years. After being arrested and charged with insider trading in 2012, he pled guilty and agreed to cooperate, helping prosecutors build a case against Steinberg, the highest-ranking trader at SAC to be caught up in the government's investigation. Steinberg has pleaded not guilty.
When Horvath was led into the courtroom by an FBI agent, he looked nervous. He was extremely tan, wearing a light gray suit and a mop of blond hair. After acknowledging that he was hoping to avoid jail time by agreeing to testify, Horvath went through a detailed description of the work he used to do: analyzing technology stocks and recommending trades to Steinberg. He flew all over the country and even to Taiwan to meet with company executives at technology conferences sponsored by investment banks. He would consult experts and executives and make spreadsheets and then report his findings and impressions to Steinberg, who would challenge him and ask to know where he'd gotten his information, Horvath said. In the first half of 2007, his ideas generated $7 to $10 million in profits for Steinberg's portfolio.
Horvath's testimony will continue on Wednesday. But regardless of how it goes, the U.S. government has finally put a recent executive from SAC Capital on the stand, and he is telling the world what went on there.
Before it's here, it's on the Bloomberg Terminal.
LEARN MORE