Ukraine's Illegal Coal Mines Lure Desperate Workers
People die and streets collapse as the mines proliferate
by and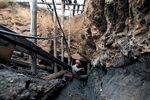 When Andrey Kandourov started working in an illegal coal mine near the eastern Ukrainian city of Torez on Oct. 1, he wouldn't let his mother buy him a respirator, because he thought it was too expensive. Two weeks later he was dead. The police told his family he died of a heart attack, even though another worker died in the mine with him at the same time. The family says it never received any compensation from the state social insurance fund.
Kandourov, who was 44, is one of many casualties of Ukraine's illegal coal business, a nightmarish world where day laborers—some in their teens—toil underground in narrow, crudely dug shafts without proper structural support or ventilation. The miners usually labor without safety equipment, and they have no hope of a pension when they can no longer work or health insurance if they're injured. They work for as little as 150 hryvnia ($18) a day, below the regional average of 185 hryvnia. Mining and energy experts estimate that hundreds die every year in such unlicensed mines, which produce anywhere from 3 million to 10 million tons of coal, or about 4 percent to 12 percent of the country's annual total.
"Andrey kept telling me, 'Mom, I can't find any work,' " Valentina Kandourova says as she shares photos of her son in her small, tidy apartment in a concrete, Communist-era housing block in the town of Shakhtarsk. She weeps bitterly as she describes the depth of her son's desperation. "That mine had been closed once before by a court order because it was too dangerous," she says.
Most illegal mines, called kopanki, are in the Donetsk region in eastern Ukraine. The birthplace of the Stakhanovite movement, designed to inspire workers under Stalin, the area became the Soviet Union's major supplier of coal and a hub of steel mills, foundries, and chemical factories. By Soviet standards it was a prosperous place. The social fabric frayed after the 1991 fall of the Soviet Union. Many state mines and factories shut down, and jobs became scarce. Crime and drug use skyrocketed, bringing with them HIV and tuberculosis.
The provincial capital of Donetsk is surrounded by towns like Shakhtarsk, with row after row of drab residential blocks linked by crumbling roads decorated with monuments of miners and soldiers. Oleksandr Kendyukhov, head of the economic management department at Donetsk National Technical University, says that the area needs massive investment and that Ukraine as a whole needs a complete restructuring of its coal industry. Where the investment will come from is unclear. The country's leaders had been negotiating a trade agreement with the European Union, but the government has recently turned away from the EU, looking to Russia for assistance.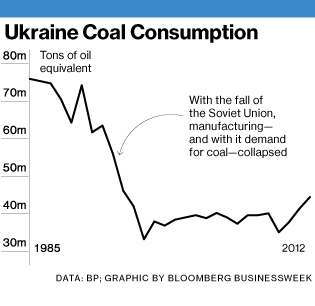 The kopanki started in the early 1990s as a way for families to get a bit of extra coal for the winter, but they've turned into a big organized business, according to Dmytro Marunych, co-chairman of the Kiev-based consultant Energy Strategies Fund. He says that most of the unlicensed mines are owned and run by loosely connected criminal networks that hire the workers and bribe local police to keep quiet. Since they don't pay taxes, social security, or health insurance, or invest in safety equipment, the coal is four to five times cheaper than what comes from the highly inefficient state mines, which spend about $200 to produce a ton of coal. The Ukrainian Parliament has just passed a law that could lead to a crackdown on the kopanki, but it remains to be seen whether it will have any effect.
According to Marunych, the state mines indirectly buy coal from the kopanki through an official trading agency, Coal Ukraine. Kopanki operators sell coal to traders, who in turn sell it on the internal Ukrainian market, where it's eventually bought by Coal Ukraine. This coal is counted as part of the state mines' production: The state mines get government subsidies for each ton of coal they produce. So Ukrainian taxpayers end up subsidizing kopanki owners. "Since 2009 the government has spent 60 billion hryvnia on coal subsidies," Marunych says. "It's so huge it destabilizes the country's budget. And it's only making the kopanki thrive." Coal Ukraine did not have an immediate comment.
Because the kopanki are shallow and dug by profiteers rather than professional mining engineers, they cause environmental damage, says Anatoly Akimochkin, first deputy chairman of the Independent Trade Union of Miners of Ukraine in Donetsk. "Real mines exploit the coal layer much deeper underground, so they pose no immediate threat to the environment," he says. "Kopanki are in areas where no one should have the right to extract coal, often right by people's houses."
Part of the street where Zinaida Trofimova lives near Snizhne has caved in as a result of illegal mining in the yard of a neighboring house. The pensioner has complained to authorities many times but says they've always turned a blind eye. "I was showing it to the police, and they said, 'Eh, what do you want?' " she says. "Sometimes when I go to bed, and the night is quiet, I hear the walls cracking." A short walk into a protected nature preserve reveals more makeshift mines. "I never take my grandchildren to the woods, because they're full of holes," Trofimova says. "Once a cow fell into one of the holes." Yet even she can't imagine life without the mines: Her son works in one to feed his three children.
For a supposedly illegal activity, the kopanki are very visible. Trucks loaded with coal rumble down country roads, while unregulated open-pit mining has turned parts of the countryside into a lunar landscape. One reason the police rarely arrest anyone could be that some highly placed politicians are involved in the trade, according to Yuriy Korolchuk, a member of the advisory board of the Institute of Energy Strategy in Kiev. The Ministry of Social Policy, which works on employment issues, including those of miners, had no immediate comment. The energy and coal minister did not find time to meet in October, nor did the ministry answer written questions.
In the Davydovka settlement near Torez, not far from the mine where Kandourov lost his life, rickety barrels filled with coal are fastened to a worn steel cable and pulled up from a depth of about 180 meters (591 feet) by an engine from an old Lada, the ubiquitous car of the Soviet era. Igor, the youngest of the three workers aboveground, adds the coal to a growing pile. Nikita revs up the coughing Lada motor, while Aleksandr, a supervisor with 35 years of experience in state mines, talks on a walkie-talkie to the two men working underground. Due to the illegal nature of their work, no one will give his last name. "This mine is operated under conditions that aren't too different from what we had under the Czar," Aleksandr says, wiping soot from his face. "These kids, they don't know what they're doing. Can life get any worse than this?"
Before it's here, it's on the Bloomberg Terminal.
LEARN MORE