The Fourth Wednesday of November
By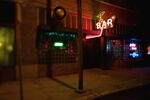 The busiest bar night of the year is right around the corner, and it's not New Year's Eve. It's the Wednesday night before Thanksgiving, the official unofficial kickoff for the holiday season. … Many bars and restaurants expect to triple their business on Wednesday night, and with good reason. Almost everyone has Thanksgiving Day off. The kids are home from college and want to catch up with their high school friends. Out-of-town family members have descended, and who feels like entertaining the night before the big feast?
—Sue McCollum, chief executive officer, Major Brands, in a letter to the editor, "On the Night before Thanksgiving, Come Home Safe," St. Louis Post-Dispatch, Nov. 26, 2013
There is something magical about this Wednesday. It is ancient and should be celebrated as we travel over the river …
Airport roulette; the dull roar at bars as townies put up with the college set returning; police on watch, interpreting law; the parental angst of getting any and all home safe.
The present zeitgeist is clinical and spare, digital and discrete. In my world, radio is a dinosaur, TV is "linear" and fossilized, and print is dead.
I have gone back to acquiring and reading books; there seems a mass and frenzied bidding war for TV talent, and there is the inconvenient truth of radio's enduring appeal. (I just took a weekend subscription to the local rag to staunch the sterility of digital.)
Digital will win.
But it will win across, against, and with the fabric of society. The season begins. I pray I do not find a pair of Google glasses in my stocking.
I'll have a cream ale, two rye Manhattans, and an apple martini. (A what?)
Be safe, take group selfies, and defeat the digital gods this fourth Wednesday of November.
Discuss.
Before it's here, it's on the Bloomberg Terminal.
LEARN MORE