Rolls-Royce Builds a Salmon Tanker
by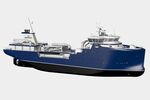 A boat built for fish would seem to be a technology whose time will never come. But Rolls-Royce is designing one. For salmon, to be specific.
The vessel, a "live fish carrier," is a boxy 250-foot boat with a high-wave-piercing bow, to be built for Bakkafrost, a Danish salmon producer. The ship will carry salmon—and enough water for them to swim in—from the open-ocean fish farms where they grow up to the factories where they will be turned into fillets and steaks.
Live fish carriers are not a new technology, but as fish farming spreads, the ships are getting more common—and bigger and more technologically advanced. The fjorded coasts of Scandinavia increasingly are lined with salmon farms, many of them in remote locations far from processing plants, and keeping the fish alive in transit ensures freshness far better than killing and freezing them. Monrad Hide, a vice president of customer management at Rolls-Royce based in Aalesund, Norway, estimates that there are 30 to 35 live transport ships plying the waters around Norway. Bakkafrost's operations are in the Faroe Islands, an archipelago belonging to Denmark but located halfway to Greenland.
Bakkafrost is paying Rolls-Royce $9.4 million to design and equip the ship, which will be built at the Tersan shipyard in Turkey and delivered in May 2015. The vessel will be among the largest of its kind ever built. Inside are three holds that together can hold 3,000 cubic meters of water. That's enough, Rolls-Royce says, to comfortably transport 450 metric tons of fish. The salmon are sucked up into the ship through giant crane-borne plastic hoses 60cm in diameter, and offloaded the same way. Inside the holds, the water is steadily circulated and filtered and oxygenated, and each fish will have room to swim about.
The gilled passengers, Hide says, need to be comfortable, or else the quality of the resulting flesh suffers and much of the advantage of transporting them live disappears: "You don't want to stress the fish, you want to have a very calm fish before you process it." The way he describes it, it sounds like a luxury cruise, but with death and dismemberment at the end.
Before it's here, it's on the Bloomberg Terminal.
LEARN MORE