Record Highs Lure Investors Back to Stocks
Cash pours into equity mutual funds after five years of withdrawals
by
Investors are rediscovering their taste for equities. Stock funds took in $148 billion in the year's first 10 months, after five years when money flowed out, according to Investment Company Institute data. The shift marks a reversal from the four years through 2012, when investors put $1 trillion into bond funds, and the financial crisis drove many to abandon stocks and miss out as the Standard & Poor's 500-stock index almost tripled from its March 2009 low.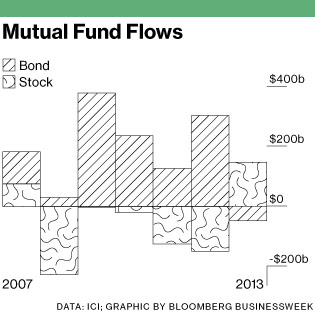 The Barclays U.S. Aggregate Bond Index—a common fund benchmark—declined 1.4 percent this year through Nov. 19 and is heading for its first annual loss since 1999. Some professionals see bigger trouble ahead for stocks. "We will have the third in the series of serious market busts since 1999," wrote Jeremy Grantham, chief investment strategist at money manager GMO, in a November letter to clients. BlackRock Chief Executive Officer Laurence Fink says stocks may decline as much as 15 percent because of political risks in China, Japan, France, and the U.S. People moving their money from bonds into stocks "are jumping from one frying pan to another," says Eric Cinnamond, manager of the $694 million Aston/River Road Independent Value Fund.
Bonds have fallen in value since May, when Federal Reserve Chairman Ben Bernanke raised the possibility of scaling back the Fed's $85 billion monthly bond-buying program. The yield on the 10-year Treasury note rose to 2.79 percent as of Nov. 20, from 1.93 percent on May 21, the day before Bernanke first mentioned the idea. Bond prices fall as rates rise. Pacific Investment Management Co., the biggest operator of bond funds, had withdrawals of $39 billion in the third quarter. "People are rotating into stocks because they opened up their statements and saw losses in their bond funds for the first time in God knows how long," says Michael Mullaney, chief investment officer for Fiduciary Trust.
Individual investors have grown increasingly optimistic about stocks as benchmarks set new highs. The S&P 500 closed above 1,800 for the first time on Nov. 21, and the Dow Jones industrial average broke the 16,000 mark on the same day. Bullishness in the American Association of Individual Investors' weekly survey has averaged 43 percent this quarter, up from 29 percent in August and a long-term average of 39 percent.
The stampede into stock funds could be a sign the rally is nearing an end, says Jonathan Pond, an independent financial adviser in Newton, Mass. "The timing of retail investors tends to be terrible." That isn't always a reliable indicator. Annual mutual fund flows turned from negative to positive twice before in the past 30 years, according to ICI data: in 1989, preceding market gains in eight of the next 10 years, and in 2003, when the S&P 500 rose until October 2007.
In the past, investors returned more quickly to stocks after market declines. When the S&P 500 index plunged almost 50 percent from March 2000 to October 2002 following the collapse of the technology bubble, individual investors shook off the damage and added $140 billion to stock funds in 2003. The 38 percent drop for stocks in 2008, the worst year for the U.S. benchmark since World War II, had a deeper impact on investor psychology because the losses were so widespread, according to Burton Greenwald, a mutual fund consultant in Philadelphia. "The public was beaten down," he says. "It took a long time for confidence to return."
Dismal fixed-income returns, and the potential for worse, are leading people to overcome their fear. "People seem to realize that if they want their money to grow they have to be willing to take more risk," says Theresa Wan, a financial planner in Dumont, N.J. One of her clients, retired doctor Michael Resnick of Suffern, N.Y., in July agreed with her suggestion to increase his allocation to stock funds to 35 percent of his portfolio from 30 percent. Resnick, 77, says he was wary because he has a low tolerance for absorbing losses. "But expectations for bonds are very low, maybe 2 percent or less," he says. "I'm sleeping all right."
Before it's here, it's on the Bloomberg Terminal.
LEARN MORE